Both the SIG P365XL and the Glock 19 compact pistols are widely popular. Some even assume that the newly released P365XL is a more improvised compact pistol and the ideal alternative to the G 19.
However, factors like their overall size, barrel length, sights, and capacity indicate significant differences. Thus, you need to understand the key differences between these two compact pistols first to decide which is better.
Continue reading this following article to learn and understand the difference between P365XL and Glock 19 to make your own decision.
Quick Comparison Table P365xl Vs. Glock 19:
Let's check out the difference between these two guns through their specs-
| | | |
| --- | --- | --- |
| Specification | P365xl | Glock 19 |
|  Overall Length | 168 mm | 6.6 inches | 187 mm | 7.36 inches |
| Barrel Length | 94 mm | 3.7 inches | 102 mm | 4.02 inches |
| Caliber | 9mm Luger | 9x9mm |
| Overall Width | 28 mm | 1.1 inches | 32 mm | 1.26 inches |
| Height | 4.8 inches | 4.99 inches |
| Weight | 20.7 oz | 23.65 oz |
| Sights | Optic Ready with X-RAY3 Day/Night Sights | FT: White Dot RR: White Outline   |
| Capacity | 12, 15 (+1) | 15 (+1) |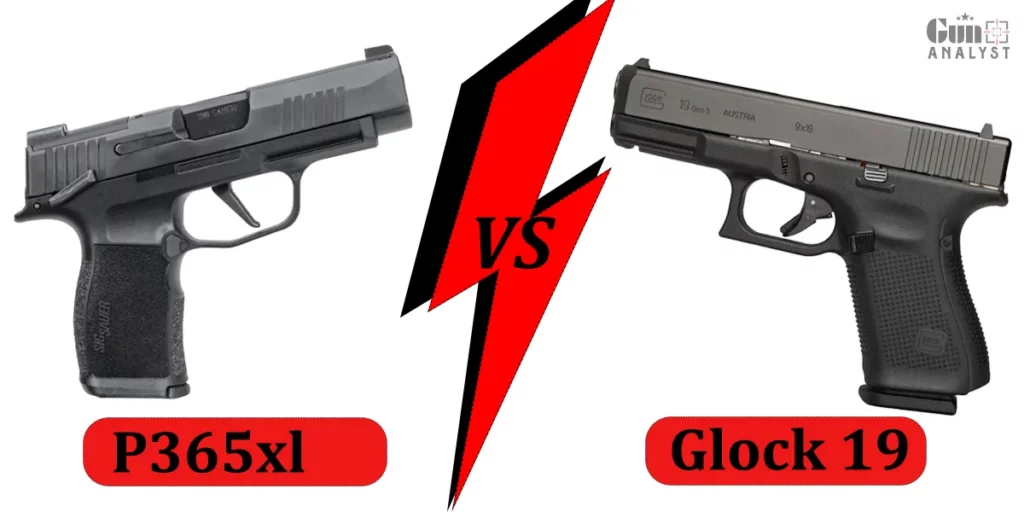 What Is the Difference Between P365xl and Glock 19 Based on Features?
Let's check out the difference between these guns through their specs- Feature 1: Difference in Size Does Make a Difference
If you compare the appearance of the P365xl and Glock 19 side by side, you will notice the apparent size difference between them. The SIG P365xl is 6.6 inches long, 1.1 inches wide, 4.8 inches tall, and weighs 20.7 oz.
On the other hand, the Glock 19 has a 7.36 inches overall length, a width of 1.26 inches, 4.8 inches overall height, and weighs 23.65 oz. So, the P365xl is comparably smaller and lighter than the G 19.
In general, the Glock 19 is pretty lightweight and considered one of the best Glock compact guns for home or self-defense and concealed carry purposes. But when you compare it with the P365xl pistol's overall size dimension, it will definitely look and feel slightly bigger and heavier than the P365xl. Thus, if you are more into shorter and more delicate pistols, you will feel more comfortable using the SIG P365xl than the Glock 19.
Feature 2: Smaller Than Most Duty Guns Yet Higher Magazine Capacity
Even though the SIG P365xl is smaller or shorter than the Glock 19 and comes with a standard 12 (+1) mag capacity, it is also available with a 15 (+1) round holding capacity.
Surprisingly, the Glock 19 is slightly bigger and heavier yet has the same 15(+1) magazine capacity. That means you are getting the same max mag capacity in both pistols. But it is still smaller and lighter than most duty guns.
The bottom line is whether you choose the P365xl or the Glock 19, you will have 15 (+1) rounds of holding ability in both of them. However, if you pick the P365xl over the G19, you will get the higher Mag. capacity in a smaller pistol.
Feature 3: More Accuracy & Less Felt Recoil
The SIG P365xl feels snappy during the shooting but will feel less snappy than the other similar category guns. Since it's a smaller pistol, you will notice more felt recoil with this one than with the Glock. Also, the SIG models are known for their accuracy assurance, but if you compare the P365xl's long-distance accuracy with G 19, it delivers less accuracy than the G 19.
Reversely, the Glock 19 comes with the advantage of its heavier appearance that offers more accuracy and less felt recoil than the P365xl.
Remember, the heavier the gun is, the less felt recoil it will have. Even the Glock 19 can provide better accuracy during long-distance target shooting. So, in this case, the Glock 19 will be slightly better than the P365xl.
Feature 4: Concealability 
The SIG P365xl is smaller than the Glock 19 and perfect for always concealed carry as a duty or self-defense weapon.
However, it does not mean one cannot carry the Glock 19 like a concealed carry weapon. But you might feel a little discomfort carrying it as a regular self-defense or duty gun due to its extra length and weight. It can be better as a backup weapon.
Most people prefer shorter and lighter guns to conceal carry, and if you compare the comfort level, the P365xl will be more comfortable to carry than the Glock 19.
Feature 5: Ability to Take Extreme Abuse
SIG has ensured higher durability, accuracy, and reliability with its P365xl version, which is undoubtedly better than the previous P365 and P365x versions in taking abuse. Even users claimed to experience less stoppage with the P365xl pistols.
Since Glock 19 is originally designed for everyday use, it has the tolerance of dealing with daily abuse. Also, it is known for taking extreme abuse without many stoppages. The SIG P365xl cannot compete with the level of tolerance the G 19 has, even though the 19 has been considered one of the simplest firearms compared to other modern firearms.
Even though the Glock 19 is designed with simplicity, this simplicity leads to a higher level of reliability by taking extreme abuse with ease. Therefore, if you are looking for a gun with a higher level of tolerance to take extreme abuse, Glock 19 will be better than the SIG P365xl.
Feature 6: Red Dot Sights & Heavy Trigger Pull
The SIG P365xl features a double-action trigger and has a smooth trigger-pulling advantage, which makes it more appealing. Both guns are Red Dot optic ready. But when you compare the accuracy of the sights in both long and short ranges along with the day and night shooting situations, the Glock 19 has an accuracy limitation. Especially during long range, you will feel that the SIG P365xl has better accuracy than G 19.
The night sights of a G19 will not be good enough for long-range, so one has to order additional night sights for better accuracy. Another issue that one might find while using the Glock 19 is the moderately heavier trigger pull, and many shooters might feel discomfort due to the heaviness. Also, it comes with only one trigger action, which might be more difficult to learn than the double-action trigger feature.
Since the P365xl features more effective sights and has a smoother trigger due to its double-action trigger type, it will be a better choice than the Glock 19.
P365xl or Glock 19- Which One to Choose?
The SIG P365xl and Glock 19 pistols are well-designed, accurate, reliable, and affordable. But if you ask whether they are similar or alternative to each other and which one you should pick.
The straight and honest answer is that decision will highly depend on what you want from your gun and your main purpose for purchasing one of these guns.
Because they both can be used as concealed carry weapons for home or self-defense and everyday duty guns. Both guns are pretty comfortable to get a full grip like any full-sized pistol, and easier to control the gun's operation during continuous shooting.
However, due to the extra length and weight, some users feel more comfortable carrying and operating a P365xl than the Glock 19.
On the contrary, Glock has been in this industry for a long time and offers reliable guns. Therefore, Glock has a big loyal consumer group, which only relies on Glock's standards and reliability over any other great options.
People who have been using Glock guns for a long time will not feel any discomfort with the Glock 19. Instead, they will be more comfortable using the 19 models than the P365xl.
If you consider which one has softer felt recoil, then the Glock 19 will be better. But if you compare the magazine capacity and concealability, the P365xl will be more convenient.
Some users claim that the accuracy is slightly better with the Glock 19 than with the P365xl. But other users also claim that they felt the opposite, and according to them, the SIG P365xl was more effective than the G 19.
Therefore, which one is better than the other actually varies from individual to individual.
Frequently Asked Questions (FAQs)
Will my Glock 19 fire if dropped?
Not, it will not. The Glock 19 is designed with a trigger safety that will prevent the pistol from firing if it's been dropped accidentally. 
What is the accurate range for the Glock 19?
Generally, the maximum effective range for a full-sized 9mm pistol like Glock 19 is 50 yards. But realistically speaking, 25 yards range will be better for non-optimum shooting.
Can I use my SIG P365 mag on the P365xl?
Yes, you can use the same magazine in both P365x and P365xl.
Does the SIG P365xl feature any safety?
No additional or manual safety features are available with the P365xl, but a thumb safety version is available.
How many magazines does a SIG P365xl come with?
It comes with 2 magazines.
Summary:
The SIG P365xl and 19 are excellent pistols and offer guaranteed reliability, but just like any other gun, they both have some advantages and disadvantages. Based on those, you can easily discover the differentiations between them.
Based on these differences, you can easily figure out the one that suits your need and purpose the most.
Related Post: