The Ruger EC9s and the Taurus G3C are two well-known competitors in the market for concealed carry weapons. But which one suits you: the Ruger EC9s or Taurus G3C?
This article will examine the designs and attributes of these two concealed carry options. Following reading this piece, you will be in a position to make the best decision possible.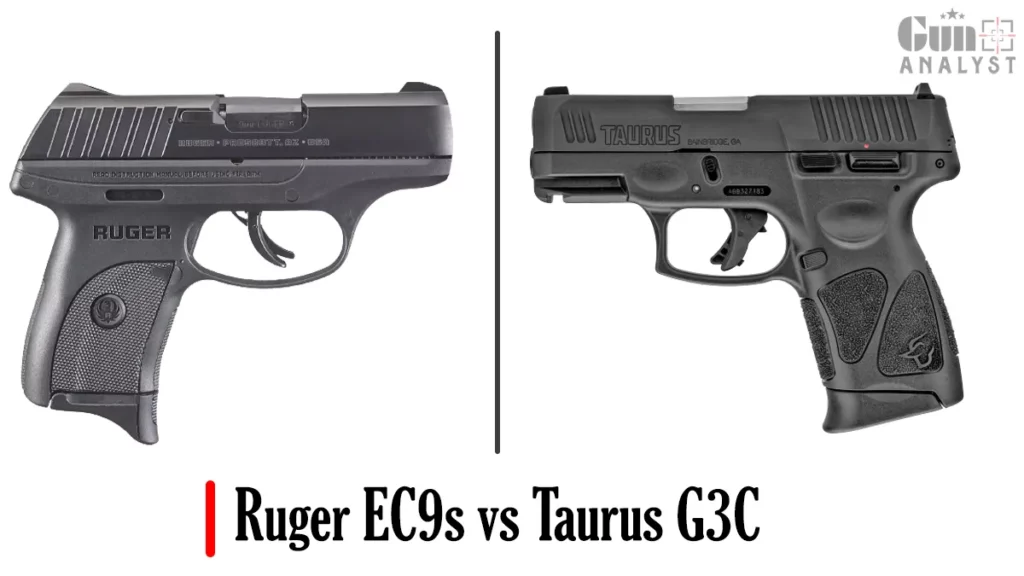 Quick Comparison Chart Between Ruger EC9s Vs Taurus G3C:
Look at this table of the Ruger EC9s and Taurus G3C which gives a quick comparison between the two guns.
| | | |
| --- | --- | --- |
| Feature | Ruger EC9s | Taurus G3C |
| Cartridge | 9mm | 9mm and .40 S&W |
| Magazine | 7+1 rounds | 12 rounds |
| Sight | Integral sights | Fixed and drift adjustable sights |
| Length | 6.0 inches | 6.3 inches |
| Width | 0.90 inches | 1.2 inches |
| Height | 4.5 inches | 5.1 inches |
| Barrel Length | Approximately 3.12 inches | Approximately 3.20 inches |
| Safety | Magazine disconnect and inspection port, integrated trigger safety, manual safety | Striker block, optional thumb safety |
| Weight | 17.2 ounces | 22.0 ounces |
| Price | $350 to $390 | $340 |
| Design | Slim profile, textured grip | Modern ergonomic design, aggressive stippling, ambidextrous controls |
| Customization | Fair aftermarket support | Growing aftermarket support |
Ruger EC9s vs Taurus G3C: What Are the Differences? (Explained)
Here are the detailed descriptions of the Ruger EC9s and Taurus G3C.
1. Cartridge:
The Ruger EC9s is available in the 9mm caliber. It is widely popular. People appreciate its balance between recoil and stopping power making it suitable for self-defense or target shooting. This versatility adds to the appeal of the EC9s.
Similarly, the Taurus G3C also comes in a 9mm option offering a level of versatility as the Ruger EC9s. However, Taurus also provides a G3C variant chambered in.40 S&W.
The Taurus G3C is known for its stopping power. This makes it an enticing choice for those who desire a more potent round.
Since both handguns offer these caliber options this aspect becomes a draw.
Ultimately the decision, between them depends on whether one prefers the accepted 9mm or desires the additional stopping power provided by the.40 S&W option.
2. Magazine:
The EC9s has a single-stack magazine configuration. Consequently, it has a somewhat smaller (7+1) magazine capacity. The slimmer shape of the handgun makes it easier to hide. But it means having to carry less ammunition.
The Taurus G3C has a larger magazine capacity (12) thanks to its double-stack magazine construction.
With this design, more rounds may be carried. Users may benefit from it in circumstances where a greater volume of fire may be required.
If magazine capacity is your biggest concern, the Taurus G3C comes out on top in this comparison. The Ruger EC9s is still a good option for people who desire stealth and are prepared to forgo some capacity.
3. Sights:
The EC9s has integrated sights installed. It, therefore, offers simplicity and dependability. Fixed sights are renowned for their robustness and constant point of impact even though they are not adjustable.
A fixed front sight and a rear sight with adjustable drift are features of the Taurus G3C. Using their preferred ammo and personal preferences, shooters may fine-tune their aim.
Those who want exact precision may find this function to be especially useful.
Shooters who want to customize their sights have an edge thanks to the Taurus G3C's adjustable sights. However, the Ruger EC9s continue to be a solid option if fixed sights are what the customer requires.
4. Dimensions:
Compact Ruger EC9s measurements are 6.0 inches long, 0.90 inches wide, and 4.5 inches in height. It is therefore designed for covert concealed carry.
It may easily fit into holsters thanks to its narrow width and sleek shape. The comfortable carrying experience is aided by the small height. Additionally, it guarantees little printing below garments.
The Taurus G3C has somewhat bigger proportions, measuring 6.3 inches in length, 1.2 inches in width, and 5.1 inches in height. This extra space can fit a double-stack magazine.
As a result, the ammo capacity is increased. The ergonomics of the G3C were taken into consideration despite its somewhat greater size.
The decision is based on the user's preference for a little bigger (Taurus G3C) or a slightly more compact weapon (Ruger EC9s).
5. Barrel Length:
The barrel length of the Ruger EC9s is 3.12 inches. This short barrel length offers a good compromise between shooting capability and concealability.
At self-defense ranges, it possesses effective accuracy. However, it also contributes to the gun's overall sleek appearance.
The barrel length of the Taurus G3C is somewhat longer at 3.20 inches. The bullet velocity may be somewhat increased by this additional length. It could result in enhanced terminal performance.
A wider sight radius is also a result of it. This can help with accurate targeting, particularly with precise shots.
The longer barrel of the Taurus G3C gives it a minor advantage in terms of potential accuracy and velocity. The effect on performance as a whole is minimal, though.
6. Reliability:
The EC9s are known by Ruger for being dependable weapons. It is a solid option due to its strong structure and track record of longevity. In challenging circumstances, concealed carry is quite dependable.
The G3C is a reflection of Taurus' attempts to strengthen quality control. Some of Taurus's earlier versions experienced dependability issues.
But improved production techniques and higher dependability are advantageous to the G3C.
Both handguns are dependable and long-lasting options. Due to Ruger's established reputation, the EC9s has a little longer track record of dependability.
However, the Taurus G3C is now a competitive choice thanks to recent advancements.
7. Safety:
The manual thumb safety is a common feature of the EC9s. In order to increase their level of security when holstering or carrying the firearm, users can do this.
Additionally, a trigger safety that guards against accidental discharges is included. Magazine disconnect and inspection ports are additional safeguards.
By integrating both manual thumb safety and trigger safety, the Taurus G3C goes above and beyond basic safety. Additionally, a loaded chamber indicator is included.
This provides both touch and visual information about the state of the handgun. A striker block safety is also included.
The Taurus G3C has an edge in this group because of its extensive safety measures. The decision for safety elements, however, depends on personal comfort and training levels.
8. Price:
The EC9s is renowned for being reasonably priced. Costs range from $350 to $390. Therefore, it is a popular choice for individuals looking for a concealed-carry gun that is affordable.
Its affordable pricing makes it an effective self-defense tool without putting too much burden on the budget.
The Taurus G3C similarly presents itself as a sensible option. The cost is $340. The user experience with the rifle is favorable given the features it delivers. In terms of pricing, it effectively competes with the EC9s.
Both handguns have affordable prices, thus this is a tie. Without a major price difference between the two, customers can select based on their objectives and budget.
9. Design:
The Ruger EC9s features a modern, streamlined appearance. Its frame is thin and light, and its corners are rounded. This lowers the possibility of discomfort during prolonged carry.
Even in humid or sweaty environments, the grip texture offers a firm grasp. Slide manipulation is made simple for chambering and clearing rounds thanks to the slide serrations.
The Taurus G3C sports a more modern design that combines tactical and ergonomic concerns. A strong hold is encouraged by the grip's intense stippling. It improves control during rapid firing.
The G3C's double-stack magazine design results in a somewhat bigger frame. Both left- and right-handed shooters may use the weapon.
The Ruger EC9s is excellent for concealed carrying. In terms of improved grip ergonomics and increased shooting comfort, the Taurus G3C is the better choice.
10. Customization:
There is a good deal of aftermarket support for the EC9s. Holsters, sights, and grips are just a few of the accessories that may be changed.
Additionally, Taurus' G3C has more aftermarket assistance. Holsters, sights, and other accessories are available for the G3C for shooters to choose from.
The Taurus G3C has a minor advantage in this area due to the significant aftermarket support it has received. The G3C may appeal to those looking for more customizing choices.
Related Post: Glock 19 Gen 5 Vs Taurus G3c: A Complete Differences
Frequently Asked Questions [FAQs]
How many magazines are included with the Taurus G3C?
The Taurus G3C comes with 3 magazines.
What are some special features of the Taurus G3C?
Re-striking ability and accessory rail.
How many models does the Ruger EC9s have?
The Ruger EC9s has 17 models.
How many Ruger EC9s models are available in the market?
5 models are available and 12 models have limited availability.
What is the build material of the Taurus G3C?
A polymer frame, alloy steel slide, and stainless steel barrel are used to build the Taurus G3C.
Related Posts: Common Ruger EC9s Problems and Solutions