Canik TP9 Elite SC and Hellcat are two of the most popular sub-compact 9mm pistols available on the market. Both of the guns offer excellent features and performance, making them formidable competitors in the handgun market.
However, some critical differences between the two guns may make one a better choice for you than the other.
Some of the basis on what differences can be made between Canik TP9 Elite SC and Springfield Hellcat are:
Size and Concealability
Trigger Performance
Sight and Accuracy
Grip and Comfort
Price Point
This article will discuss these points further in detail.  
Canik TP9 Elite SC vs. Springfield Hellcat: A Quick Rundown
| | | |
| --- | --- | --- |
| Categories | Canik TP9 Elite SC | Springfield Hellcat |
| Magazine capacity | 12/15 rounds | 11/13 round |
| Barrel length | 3.60-inch | 3-inch |
| Height | 4.57-inch | 4″ w/Flush Mag  & 4.5″ w/Extended Mag |
| Width | 1.15-inch | 1-inch |
| Overall length | 6.71-inch | 6-inch |
| Weight | 24.52 oz | 18.3 oz w/Flush Mag & 18.6 oz w/Extended Mag |
| Optics ready | Yes | No, but optics-ready models are also available |
| Manual safety | No | Yes |
| Price | $339.99 | $599 |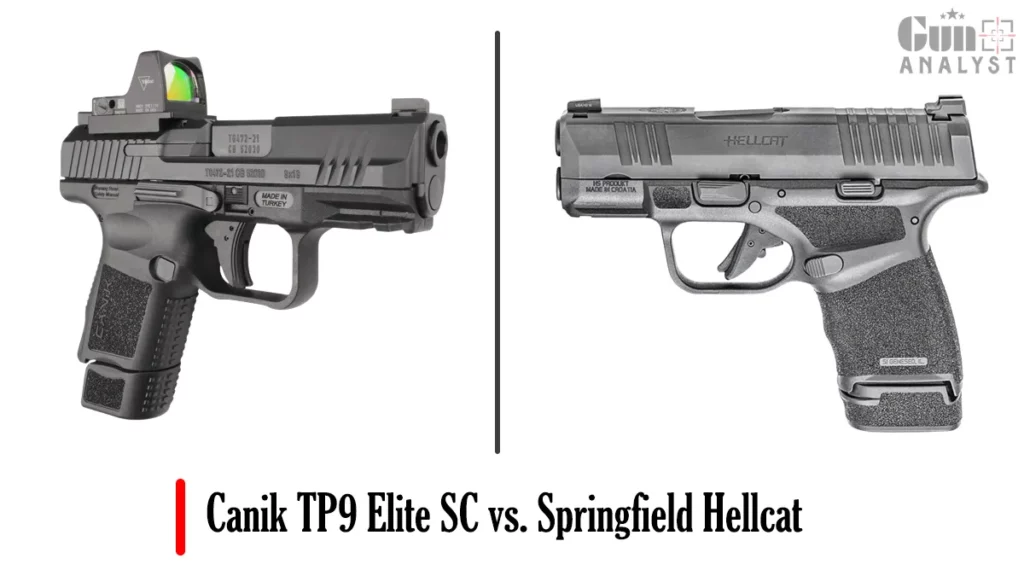 Quick Company Overviews
Canik:
Canik is a reputable firearms manufacturer recognized for producing high-quality handguns. Canik, based in Turkey, has garnered global recognition for its exceptional craftsmanship and dependable performance. Their guns, notably the TP9 series, are highly regarded for their innovative design, affordable price, and extraordinary features.
The TP9 series, including TP9SA, TP9SF, and TP9 Elite, are available to accommodate different preferences. These pistols have ergonomic designs, polymer frames, and a variety of trigger configurations. Trigger safety mechanisms and striker status indicators provide peace of mind to Canik handgun owners.
Hellcat: 
Hellcat is a well-known firearms manufacturer affiliated with Springfield Armory. Hellcat is famous for its compact and highly concealable pistols, explicitly designed for personal defense and concealed carry. The Hellcat pistols are known for their compact frame with a large capacity.
The Hellcat series, which includes the original Hellcat and the Hellcat OSP (Optical Sight Pistol), is distinguished by its dependability and precision. These handguns feature optics-ready slides, textured grips, and magazines with a high capacity. Hellcat pistols are ideally suited for self-defense due to their dependability and concealability.
Differences Between Canik TP9 Elite SC vs. Springfield Hellcat
Check out the detailed comparison between Canik TP9 Elite SC vs. Springfield Hellcat:
1. Canik TP9 Elite SC vs. Springfield Hellcat Size and Concealability:
Significant differences in size can be observed between the two guns. The Canik TP9 Elite SC is slightly bigger and heavier than the Hellcat. It is 0.72 inches longer, 0.15 inches wider, and around o.2 inches thicker. The gun also weighs six ounces more than the Hellcat.
You can drop down the Hellcat with 13 round magazine in your pocket even without the holster, and people can't tell you are carrying a handgun.
The Canik, on the other side, may bulge even with a holster, and people can get a better idea of what you are carrying.
Which one will be more concealable?
There is nothing like being entirely comfortable about carrying a gun. However, if you want a lighter and easily concealable handgun, Hellcat is made for you.
2. TP9 Elite SC vs. Springfield Hellcat Trigger Performance:
The Canik provides an exceptional light trigger that breaks smoothly and has a shorter reset compared to the Hellcat. You won't probably like the Hellcat trigger, as it feels rough and has a longer reset.
The trigger-pull weighs between 5 and 7 pounds for the Hellcat, while the Canik weighs around 4.8 pounds.
Which one is more fun to shoot?
The Canik trigger is soft and consistent. You'll enjoy shooting the Canik for sure.
3. Canik TP9 Elite SC vs. Springfield Hellcat Sight and Accuracy
The Canik offers Blackout rear and phosphorous front white dot sights and optics ready co-witness feature.
The Hellcat offers a tritium & luminescent front sight paired with a tactical rack U-Dot rear sight. You may love the iron sights right out of the box.
Although the Canik is a short-sight radius pistol, it is reliable at all distances in the yard.
Which one is more accurate?
When you shoot both sides of the gun by the side, the Canik outpaces the Hellcat by miles.
4. Canik TP9 Elite SC vs. Springfield Hellcat Grip and Comfort:
The Hellcat has a staggered pyramid shape pattern. The taller pyramids ensure comfort in the waistband, and the shorter pyramids lock into your hand for a secure hold when you press the grip more firmly.
The sandpaper-like texture and serrations on the slide offer more grip. The gun grips well with a pinky extension.
The back strap on the Canik is contoured in a way that puts tremendous pressure on the base of your palm, and as you grip the pistol, it digs into your palm.
Which one is more comfortable?
Both guns offer good ergonomics, but the Hellcat may be more comfortable. However, it's always better to find some people nearby and test the gun to ensure it fits you best.
5. Canik TP9 Elite SC vs. Springfield Hellcat Price Point and In-Box Components:
The Canik may cost you around $450 with an already cut for an optic. The Hellcat costs around $600 with an optic and around $550 without an optic.
The Canik offers a decent codex holster, twelve and fifteen-round magazine, a flush plate, safety locks, tool kits, back straps, and cleaning stuff in its box. The Hellcat has a double zipper case to easily carry your gun without a holster.
Which one is value for money?
Just because the Canik offers a lower price doesn't mean the gun face issues. Canik and Hellcat provide similar performance, but the cost and accessories that come with the Canik give it a clear advantage over the Hellcat. So, you probably won't regret buying a Canik. 
Frequently Asked Questions (FAQs):
Is Canik better than Glock?
Canik has long been known as Glock killers and may offer better accuracy.
Where are Canik pistols made?
Canik pistols are manufactured in Turkey, and Century Arms import them to the U.S.
Does the military use Canik?
Yes, the Turkish military and their special forces use Canik pistols as part of the armaments.
What gun is similar to the Hellcat?
SIG P365 is similar in size and also comes with a ten-round magazine.
Does Springfield Hellcat have manual safety?
Yes, the Hellcat comes with a manual thumb safety mounted to the frame.
Does it hurt to dry-fire a Springfield Hellcat?
Dry firing on a regular basis can accelerate component wear or stress. You can use snap caps to minimize the damage.