Springfield Armory has recently released its latest version Hellcat Pro which is known to be identical to SIG Sauer P365x Macro. Now it raises an obvious question of whether they are identical inside out or just have similar outlooks.
At first look, they might seem exactly identical to each other, but factors such as overall size, magazine capacity, grip or control, flexibility, and concealability can help you identify the significant differences between these pistols.
Therefore, keep reading the following article to learn what makes the difference and which gun will be better for you.
Quick Comparison Table SIG P365x Macro Vs. Hellcat Pro:
Let's check out the difference between these two guns through their specs-
| | | |
| --- | --- | --- |
| Specification | SIG P365x Macro | Hellcat Pro |
|  Overall Length | 6.6 inches [168 mm] | 6.6 inches [168 mm] |
| Barrel Length | 3.1 inch [79 mm] | 3.7 inch [94 mm]  |
| Caliber | 9mm Luger | 9mm |
| Magazine | 17 (+1) | 15 (+1) |
| Weight | 21.5 oz [610 g] | 21 oz [595 g] |
| Sights | X-RAY3 Day/Night Sights | Tritium/Luminescent Front, Tactical Rack U-Notch Rear |
| Overall Width | 1.1 inch [28 mm] | 1 inch [25.4 mm] |
| Height | 5.2 inch [132 mm] | 4.8 inch [121 mm] |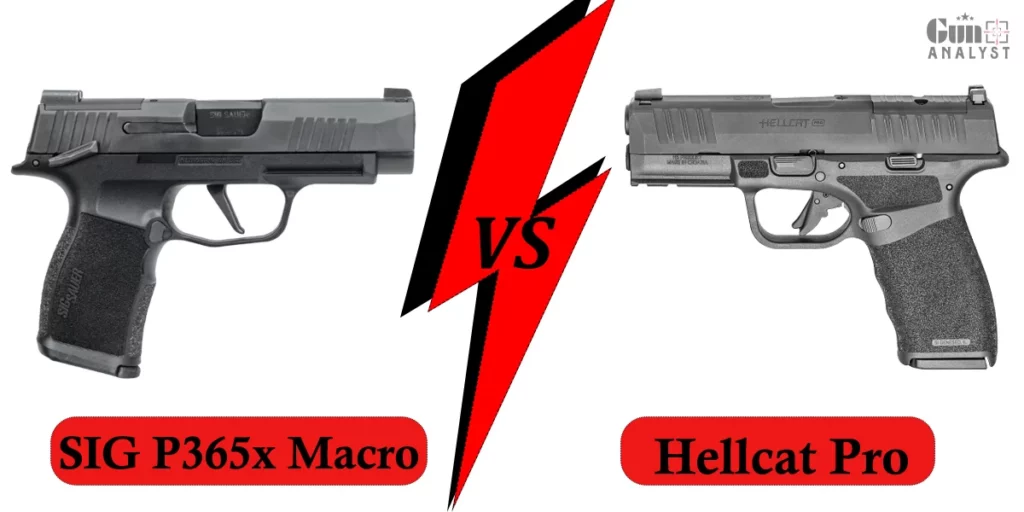 What Is the Difference Between SIG P365x Macro and Hellcat Pro Based on Features?
Let's check out the difference between these guns through their specs-
Feature 1: Neutral Grip Angle with Adaptive Grip Texture & Interchangeable Backstraps
The Hellcat Pro has a pretty neutral grip angle and a great adaptive grip texture. Especially good when things get hot and sweaty on the range, this grip texture lets you hold onto the gun comfortably.
On the Contrary, the grip texture on the SIG P365x Macro is solid and you will get a single finger-groove. This pistol also features addition of interchangeable back straps for a little bit of custom fit.
Both pistols offer a comfortable and solid grip, and since comfort varies from person to person, it depends on the users to find with which they feel more at ease. But you will get additional adaptive crip texture with the Hellcat Pro. Another thing is SIG X macro offers the customize option with the additional interchangeable backstraps, but that option is not available with the Hellcat Pro-gun.
Feature 2: Difference in Overall Size & Additional Integrated Compensator
The P365x Macro has an overall 6.6 inches, 1.1 inches wider, and 3.1 inches barrel length. Therefore, it fits into most hand sizes (including smaller hand sizes), and even people with larger hands will not feel discomfort holding it and getting a full-sized grip over their gun.It also features an integrated compensator in the slide for extra added benefit.
However, the Hellcat Pro comes with the same overall length, 1 inch wider, and a similar solid grip as the SIG X macro, but you will get a slightly different feel than the P365x due to the 3.7 inches barrel length of the Hellcat Pro. Unlike the SIG, the Hellcat Pro pistol does not feature an integrated compensator.
The SIG P365x macro and Hellcat Pro have very little size difference. But still, if you compare their size side by side, you will see the SIG P365x is a slightly better option, not because of the only additional integrated compensator feature but also based of its overall size and body texture.
Feature 3: Higher Magazine Capacity with Reversible Mag Release Benefit 
Even though the SIG P365x macro weighs 21.5 ounces (a little bit heavier than the Hellcat Pro gun's weight), it also comes with 17(+1) rounds of capacity. So, the slight weight difference has been compensated by the higher magazine capacity of this gun. Also, this pistol's magazine release is reversible.
Reversely, the Hellcat Pro gun comes in at 21 ounces flat and features 15 (+1) rounds of flush-fit stainless-steel magazines.
The bottom line is that you will get a little heavier gun but with a higher magazine capacity if you choose P365x macro. But if you select the Hellcat Pro due to the thinner size and lighter weight, you will get 2 rounds less magazine capacity.
Feature 4: Factory X-Ray Sights & Durable Nitron Coated Slide
The SIG X macro gun features factory x-ray sights, and that's why this gun is green very bold front and darked out rear side. It also comes with night sights and has some of the nicest sights directly designed by the factory. It features Nitron coated slide, which is a very durable coating.
On the other hand, the Hellcat Pro pistol features a very bold front sight and a U-Notch type of white rear. This gun also comes with an awesome sights radius that works well too.
Both pistols have excellent factory-designed sights radius and provide better accuracy while shooting from a far distance. But the SIG P365x macro is slightly better with the overall finish and will be more durable than the Hellcat Pro.
Feature 5: Magazine Base Plate, Faster & Easier Trigger
The SIG x macro pistol's base plate extends out of the base. You will feel a bit better, lighter, and crisper when shooting out with the SIG x macro on the range. Also, the trigger is a little bit faster and easier with SIG. You will notice that the P365x macro does not take up or lag much between yanking on that trigger.
On the other hand, the Hellcat has a flush-fit magazine. Therefore, you will notice a slight protrusion magazine base plate slip down there. The Hellcat does not have a bad trigger performance, but it definitely cannot beat the overall feel that the P365x macro has.
Even though the clear difference between their base plate might not be a concerning issue for most consumers, the trigger and how does the overall feeling one gets during shooting surely makes the difference. In that case, the P365x macro will be a better deal than the Hellcat Pro.
SIG P365x Macro or Hellcat Pro- Which One to Choose?
Both guns are exceptional when it comes to having better overall finish, concealability, and overall performance.
They even feel like full-sized (bigger) weapons while holding in hand or presenting them out on target. Both have easier and faster triggers compared to other similarly graded guns.
Even if you consider the magazine release or the slide stop release feature, both are single-sided and easy-to-move pistols.
Another concerning feature is the sights, where you will notice that both pistols have bold front sights and very nice usable rear sights. Also, there is no accuracy difference between them. Whether you are shooting 50, 75, or 100 yards, both deliver the same level of precision during shooting.
There are some undeniable differences between the P365x macro and Hellcat Pro, such as the grip difference where the Hellcat comes with additional adaptive grip texture around its up front on the frame. You will get a firm grip and control over the gun, especially during summertime when your hands get sweaty. Unfortunately, that option is not available with the SIG x Marco.
Similarly, the SIG P365x macro features an integrated compensator which adds additional benefits, but it's not available on the Hellcat Pro.
However, which one will be better or suited more for their purposes will highly depend on the consumer's preference and purpose for using the gun.
Frequently Asked Question (FAQs)
Does the SIG P365x Macro gun come with any carrying case in the main package?
Yes, it does. You will get a gun with a carrying case or box/mini-carrying bag.
Does Hellcat Pro come with a grip safety?
Yes. It features a low-profile manual thumb safety that is mounted to the gun's frame.
Is it Possible to concealed carry a Hellcat Pro?
Of course, the Hellcat Pro has the perfect overall appearance to be carried as a concealed weapon on daily basis.
Is the SIG P365x Macro optic ready?
Summary:
It seems manufacturers have combined all the special features of a full-sized larger handgun with leading concealability and capacity to bring the best compact and lighter version while designing and creating the P365x macro and Springfield Hellcat Pro.
However, they have notable differences too, which are already discussed in the earlier sections of this article. Hopefully, the earlier discussion will be enough to make the final call and choose between the P365x macro & Hellcat Pro.
Related Post