The SIG Sauer 716i is the best battle rifle for the money in the AR-308/AR-10 style weapon category. Owners have discussed their personal experiences and arguments for and against the product's worth with detractors.
But don't be deceived by its low pricing. This gun is not an entry-level model. However, problems do persist that may take away from it being a top-tier one.
The most common problems with the SIG Sauer 716i are extractor and chamber issues, trigger issues, charging handle issues, non-adjustable gas system issues and reliability issues.
In this article, you will find the fix to these problems. Additionally, you will find what the users currently experience with this product. Read the entire article to find out!
Features & Specifications of SIG Sauer 716i:
| | |
| --- | --- |
| Cartridge | 7.62×51mm NATO |
| Capacity | 20+1 |
| Barrel Length | 16 inches. |
| Weight | 8.5 lb |
| Length | 37 inches. |
| Width | 2.5 inches. |
| Height | 8 inches. |
| Safety | Two-position selector |
| Sights | None |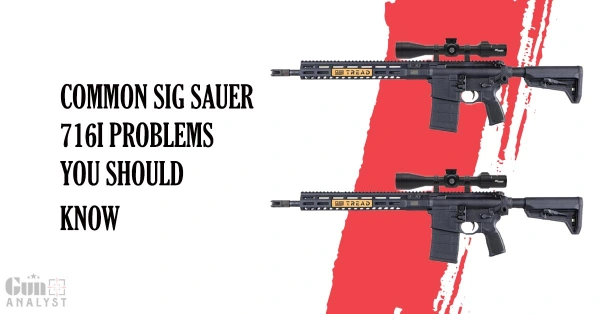 Common SIG Sauer 716i Problems and Solutions
The owners deal with many common SIG Sauer 716i problems. Here are some of the issues and how to solve them.
Quick Overview of the Problems and Solutions
| | |
| --- | --- |
| Problems | Solutions |
| Extractor and Chamber Issues | Troubleshoot, use proper ammo. |
| Trigger Issues | Replace stock trigger. |
| Charging Handle Issues | Replace the charger. |
| Non-Adjustable Gas System Issues | Improve system under professional supervision. |
| Reliability Issues | N/A. |
1. Extractor and Chamber Issues:
This appears to be a common issue with this rifle. After firing roughly 20 rounds, it fails to feed (FTF). Due to a stuck cartridge you may be unable to slide the charging handle back. It may also be challenging to remove and reinstall the extractor pin.
The Fix:
Sometimes it simply requires a slight push because of an extractor tension or claw issue. Sometimes the problem is with the chamber rather than the extractor. The cartridges could get jammed if there is a problem with the chamber.
Try to mortar it. Get a 1/4-inch wood dowel and try to remove the cartridge yourself. Look for any marks on the fired cases, such as a ring around it, which could indicate a rough chamber or simply a tight chamber.
Expect the failure to feed to persist with this rifle. The 7.62×51 AOB 145gr F4 Ball, 155gr and 308 AOB 150gr Swift Scirocco II BTS work quite well. However, the 155gr AMAX 308 Hornady Black performs better than the other loads.
2. Trigger Issues:
The stock trigger is very trigger. It is very stiff and grittly.
The Fix:
The issues may resolve when using sandbags. Do not use AR Gold triggers. Buy the Geissele SSA-E for a lovely, crisp, lightweight 3.5-pound two-stage.
And use a Geissele S3G for a lovely, light, crisp single stage. The 3.5 and 4.5 lb springs for the SG3 will be available. Both of them would be vastly superior to the OEM trigger.
3. Charging Handle Issues:
The SIG Sauer 716i has a crappy stockcharging handle. Replacement chargers such as a Radian Raptor LT may not work. You may fail to install it.
The hole for the gas key may line up, but the lip may be too short and pull back on the bolt cam pin instead of the groove in the BCG. This makes it impossible to use the charge handle to release the bolt assembly from the chamber.
The Fix:
Sig offers an ambi charging handle for the 716i on their website. Aftermarket items are not supported by SIG customer service. In this case, a Griffin Armament SN-ACH or a Raptor may not work as an ambidextrous charging handle anyway.
4. Non-Adjustable Gas System Issues:
For unrestricted fire, the gas block's tuning is fine. However with a suppressor on, you may get brass catch up three times.
It will be cycling far too quickly.
The Fix:
Most people try to put an adjustable system on it. But its quite tricky. You'll need to take them out and make sure the ports match up because the factory one is pinned.
It's better to keep the measurements of your gas tube in mind and take help of a professional while doing it.
5. Reliability Issues:
The gun may overgas for it to be reliable. Additionally, there are no interchangeable parts almost anyplace. The receiver is imprinted on. It includes a lot of exclusive parts.
It may be more challenging to obtain a part if you need it urgently or there is a shortage. Additionally, its heavy, itt cannot fit any other rail.
Alos, the ambi mag release and bolt hold open are too close together, making it difficult to lock the bolt. The gas system components are proprietary parts.
The Fix:
You can only troubleshoot a little. Because all these are design issues. These rifles are good enough but not a 'must have'.
User Feedback on SIG Sauer 716i
Users, besides the general 7.62, have also shot .308 match, premium hunting, and ball ammunition with no issue. It is also liked by people who are not precision shooters.
It is people's favorite rifle to fire especially when set up as a DMR. It has been really trustworthy and accurate. The SIG716I stands out among AR-10-like platforms in .308 while providing exceptional value.
Top-notch construction and finishing is a plus point on the firearm. Some owners and reviews claim it can compete with the top brands in the AR-308/AR-10 pack. Given the number of features you receive for the low price, it is a genuine best value.
As of 2021, India had issued about 144,000 of these frontline fighting rifles to its soldiers along the Line of Control with China and Pakistan. The expected hunting distance is 300 metres maximum.
In terms of hunting, a 16″ 308 will produce 2400–2500 fps with a variety of hunting ammunition. More than enough to dispatch any target you would want to fire at a regular distance with a 30-caliber bullet. So users love this one overall.
Frequently Asked Questions (FAQs)
What is the problem with a AR Gold trigger on a 716i?
A spring-loaded plunger opposes the mechanism. You can feel the plunger's grit moving in its crevice. It's not a drop-in that is assured. The selector cams against a lever that has extra material incorporated into it by the manufacturer.
Is the flash hider pin or is it staked on the 716i?
On the 716i, the flash hider is really torqued rather than pinned, so you might need to use heat to get it out.
What style of Upper Receiver is used in the 716 uses?
A Direct Impingement style is used.
Between the .308 and 7.62 NATO, which ammo is suitable for the 716i?
It only affects older 7.62 rifles. Therefore, don't run a .308 in an old surplus FAL. But the newer ones should operate fine with both types of ammo.
Conclusion
The SIG 716I is reliable and consistently serves its purpose. Having said that, I believe the SIG 716I is the most affordable rifle of the AR-308/AR-10 family. All of your objectives will be met, and then some. So, rely on it heavily. You can rely on it.
The streamlined interface between the upper and handguard on the SIG 716i is liked by many. It was a classic SIG weapon at release. That is, terrible at release, but subsequent iterations improved thanks to beta testing by paying customers.
In my opinion, you can go for this one if you want. You will not be disappointed. In fact, you may just be totally satisfied!
Related Posts: