ETS has kept Glock on its toes by continuously improving its magazines over the years. They run flawlessly and offer more rounds than other OEM mags!
However, the mags can be notorious and are often infamous for the number of issues. The most common problems with the ETS Glock Magazines are: jamming problems, FTF with specific ammo, tight mag well, feed lips problem and not dropping free.
I will give you the solution to these common issues in this article. Additionally, you will get authentic reviews from users as well. So stay tuned!
Features & Specifications of ETS Glock Magazine:
| | |
| --- | --- |
| Compatibility | Fits the Glock 17, 18, 19, 19x, 26, 34, and 45 (Gen 1 through Gen 5 Glocks) |
| Magazine Capacity | 12-32 rounds |
| Base Plate | GEN 2 Base Plate |
| Caliber | 9 mm, 10 mm, .40 ACP, .45 ACP, .380 ACP |
| Weight | 1.7 ounces. |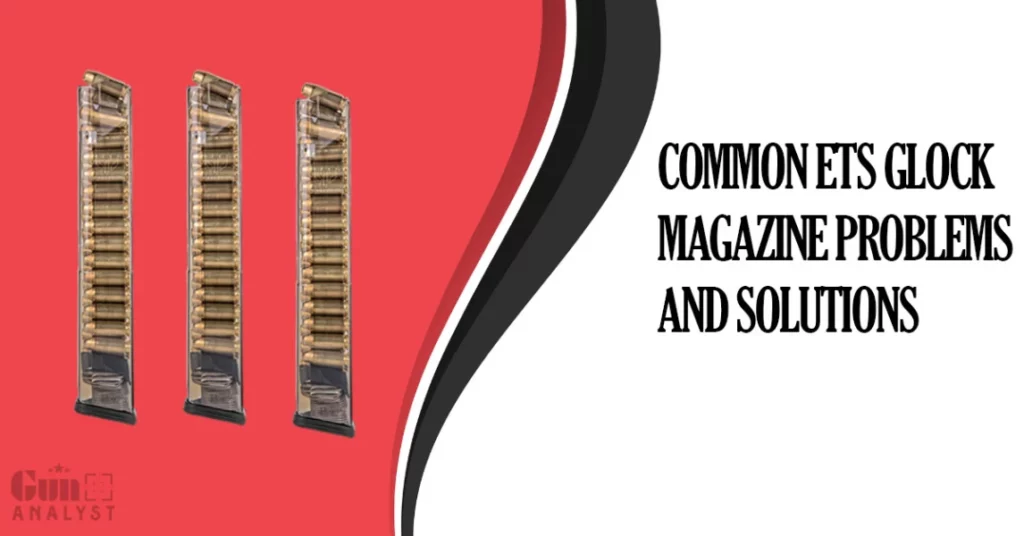 Common ETS Glock Magazine Problems and Solutions
| | |
| --- | --- |
| Problems | Solutions |
| Jamming Problems | Clean magazine, troubleshoot. |
| FTF with Specific Ammo | Use the suggested ammo. |
| Tight Mag Well | Use in the guns that fit it properly. |
| Feed Lips Problem | Change the style of inserting or replacing ETS. |
| Not Dropping Free | Troubleshoot or use proper gun model. |
1. Jamming Problems
In the ETS 40-rounders, a jam on the final two rounds is rather typical.
Possible Reasons
The 40-round mags will do that when they get dirty.
The Fix
They should be scrubbed with soapy water and a brush, dried, and then coated with silicone spray.
They function normally once more for around 800 rounds.
Cutting a nub off the follower may resolve the problem if cleaning doesn't work. But this may invite other problems when done incorrectly.
2. FTF with Specific Ammo
There would be failures to feed about 30% of the time when using steel ammo. 
Possible Reasons
The steel-cased WIN ammunition is the most problematic. Aluminum and steel are prohibited in ETS magazines. Even the Federal HST 9mm nickel plated cases are disliked by the ETS.
Feeding issues are brought on by being slightly (or significantly) underpowered and the case's texture.
This is true for both their pistol and rifle magazines, and it is not in the least bit ETS' fault.
Essentially any plastic magazine without an interior metal sleeve and feed lips will have the same issue.
The Fix
Try with brass ammo, see if that helps. Putting some dry lube on the spring and inside of the body can eliminate 99% of these issues.
3. Tight Mag Well
It requires considerable force to remove an ETS magazine after it has been inserted. with a Springfield Saint, BCM, etc., in particular.
Possible Reasons
It requires considerable force to remove an ETS magazine after it has been inserted. More so, with a Springfield Saint, BCM, etc., in particular.
The Fix
The only thing to do here would be to replace the ETS magazine. I would suggest Magpul as it performs really well with the mentioned guns as well as Glock!
4. Feed Lips Problem
The Glock 43 would not correctly feed ETS magazines. Stovepipes would develop on a regular basis.
Possible Reasons
The feed lips are really particular. It does not feed a lot of ammo to some extent.
Before any other cartridges could slip on, a tiny bit of play where the cartridges sit would cause a jam.
Furthermore, you cannot feed at all even if the lips are slightly out of alignment!
The Fix
Learn how to properly feed the gun. Use proper ammo (do not use brass). If the issue doesn't resolve, the only thing to do would be to replace the magazine.
5. Not Dropping Free
The 22-round ETS magazines frequently fail to drop free. Particularly on a firearm like the Glock 19 Gen 4.
Otherwise, a flick of the gun will still be able to release some if they hang up a little time-to-time.
Possible Reasons
Clearly, the magazines are the issue and not the weapons. The prolonged mag release could potentially be the cause.
If you had this in a hot location, the mag well may have distorted with time.
The Fix
Check out the release after uninstalling it. To see if the release is dragging or holding the magazine in and preventing it from dropping free, you can try peeking through the mag well first.
Additionally, the ETS magazines differ slightly from Glock magazines. Some of my guns fit them better than others. For instance, they are too tight to operate in the G17-based Sub 2000.
So, if it is a nuance to your gun, please replace it!
User Feedback on ETS Glock Magazine
Some people had problems with the mags. Locking issues, springs that stick, and other issues. Others thought they were all excellent.
From what it seems, they are more unreliable in some Glock models than others. Usually in the Glock 17, they may cause trouble. Usually, all failures can be traced back to the springs.
Usually, the 7-rounder would insert without a problem. But it would never successfully feed the first round of the magazine while firing. This is a common issue.
However, you won't find OEM magazines anywhere else for less money. Keep in mind that ETS also offers excellent customer service! Customers value this a lot.
Although loading all 15 rounds into the magazine might occasionally be tricky, if done correctly, you won't experience any feeding troubles. In my opinion, it is a reliable source to get OEM mags.
Top 3 Alternative Guns of ETS Glock Magazine
Based on comparing the specs, features, practicality, and performance, I have found the 3 best alternatives to ETS Glock Magazine. 
Magpul
Magpul is excellent for training and range shooting. It also results in fewer issues. It's also a superior lighter.
Elite Tactical
They look amazing and are great on AR guns too! These are a need if you shoot like "spray and pray."
In the USPSA's Pistol Caliber Carbine (PCC) class, where the capacity options are nearly endless, they are fairly popular.
ProMag
They are all steel and thereforequite reliable aftermarket ones. It is great to use them at the range, and it saves wear and tear on your factory mags.
Frequently Asked Questions (FAQs)
Is ETS Glock Magazines or Magpul better?
Both are great. But Magpul is great for range shooting and training. It is also lighter.
What is different with ETS Glock Magazine in lower receivers?
In some lower receivers, the ETS AR mags are a little bit too thick
Where are ETS magazines made?
Who makes the best 9mm magazines?
Magpul is currently ruling the aftermarket mag manufacture.
What is the highest capacity Glock magazine?
Conclusion
I would say, never trust your life with anything but a Glock factory magazine. However, if you really want aftermarket mags, the ETS indeed is a good choice.
But for more sophisticated use, buy something like Magpul. There are issues like hurting your finger due to a sharp edge where the rounds insert into the magazines.
It's unfortunate that they won't fit in the mag well of the Ruger Carbine. Additionally, it could be difficult or impossible to fill the indicated capacity due to the feed lips.
The color inserts and base plates can be an issue too. In my opinion, look for better aftermarket OEM mags if your budget is not a problem.