Kimber k6s have been a popular choice for a long time. The competition is fierce in the premium segment and this gun has been holding on its own very well.
With k6s you may have to face problems like long trigger pull, two-finger grip, trigger bounding up, cylinder getting locked and a few more.
In this post, instead of Kimber k6s review, we will be discovering some common Kimber k6s problems. Also, I'll discuss how you can overcome these problems and make the most out of this beautiful gun.
Features & Specifications:
| | |
| --- | --- |
| Height | 4.46 inches |
| Weight | 23 ounces (when empty) |
| Length | 6.62 inches |
| Action | Double Action Only |
| Capacity | 6 rounds |
| Barrel Length | 2 inches |
| Sight | Night Sights |
| Trigger | Non-stacking |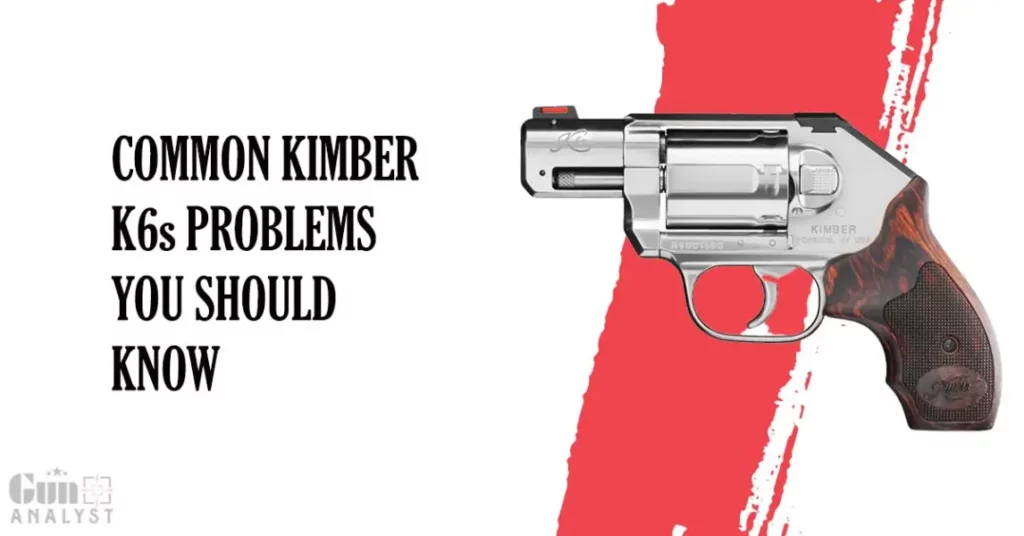 Common Kimber k6s Problems and Solutions
In this section, we will be looking at some of the common problems of Kimber k6s and how to solve them.
Quick Overview of the Problems and Solutions
| | |
| --- | --- |
| Problems | Solutions |
| Cast frame | Order custom parts, use the right ammo |
| Two-finger grip | Change to a longer grip |
| Long trigger pull | You will get used to it |
| Uncomfortable shooting | Change to a comfortable grip, use appropriate ammo |
| Trigger bounds up | Open the cylinder and unload then clear debris inside |
| Cylinder locks up | Return it to Kimber or take to reputed gunsmith |
1. Cast Frame:
Kimber used a cast frame on this k6s revolver. Even though its finish is meticulous, the forged frames are stronger.
Forged frames tend to be around 20% stronger than cast frames. Also, forged metal has more than 30% fatigue strength than its cast counterparts.
The Fix:
You will have to be aware not to put too much pressure on the revolver.  Always use the recommended ammo so that the frame can handle the recoil.
Also, always be alert not to drop the gun from high ground as little parts and components can break or get displaced.
2. Two-finger Grip:
If you have a man-sized hand, then you will have to grip the gun with two fingers. There is no way someone with above-average size would have a full grip on this revolver.
So, there is a good chance your pinky might not be able to support you holding the gun. It was designed to be a two-finger gun.
The Fix:
The easy workaround to this problem is to install your preferred grip. You should install the custom grip you feel most comfortable in.
Also keep in mind that it might change the center of gravity, so you will need a little time practicing and getting accustomed to it.
3. Long Trigger Pull:
As it is a double-action only revolver, the trigger pull is long. It might feel long if you are coming from another variant.
There is no hammer or extension that extends outward. The trigger pull alone rotates the barrel and shoots the bullet.
The Fix:
The best advice is to get used to it. Not every gun should be the same.
As the trigger does both heavy lifting that includes rotating the cylinder and shooting, the trigger pull will certainly feel longer. And, there is not much to do to change this trait.
4. Uncomfortable Shooting:
The stock grip is not only short but also does not fit well with the skin.
Now if you add that with heavy recoil then it makes an uncomfortable feeling on the inner skin during continuous recoil stated by this YouTube reviewer.
Not to mention the stock grip is designed for two fingers. So, it might get a little hard to handle.
The Fix:
The texture on the grip surface is quite smooth, so you will have to change the grip.
My suggestion would be to install something with texture that you feel comfortable while holding. And, it should handle the recoil well, too.
5. Trigger Bounds Up:
The trigger often bounds up when debris get stuck inside. It is not uncommon in K6s to have debris getting locked inside.
Specially, when the debris goes deep inside, it can sit between critical components which can affect the trigger.
The Fix:
First of all, you should use the recommended ammunition as it will keep the gun in optimal condition. Also, after each shooting session clean the gun thoroughly.
Do not let debris pile up inside that would eventually reach the trigger.
6. Cylinder Locks Up:
Cylinder locking up is one of the few Kimber K6s problem that have been reported frequently.
It could happen for various reasons like poor quality control, low quality ammo, internal failure, etc.
Most often debris from bullet casing are responsible for locking up the cylinder as they tend to get stuck inside.
The Fix:
The best action is to return the gun to Kimber. As the cylinder gets locked up due to internal components failure, so it is better to let the professionals at Kimber do their work.
User Feedback on Kimber K6s
Numerous customers have expressed their opinions about the gun in a positive manner. There is a lot of Kimber k6s combat review on online platforms that will give you more confidence that you are making the right choice.
Even though the revolver has little quirks but they don't weigh much against what the gun brings to the table.
A user stated on rugerforum.net that this revolver is one of the best revolvers he ever owned. He was also impressed with its accuracy and range.
Another statement from a user of firingline.com says once got his hand on this he changed the stock rubber grip with a wood grip. Since then, he has been impressed with the gun. He also mentioned his Smiths and Rugers are getting neglected since he had this one.
On most cases this gun is loaded with positive reviews from users. Although, its better to ready to face some common problems along the way if any pops up.
Frequently Asked Questions (FAQs)
What frame is Kimber K6s?
The Kimber K6s is the lightest small-frame revolver in the world.
Can you dry fire a Kimber?
Yes, it is safe to dry fire the centerfire guns.
When were the Kimber K6s released?
The Kimber K6s were first released in 2016.
How much does a Kimber K6 weigh?
Who makes grips for Kimber K6s Dasa?
The rubber grip of Kimber k6s is made by Hogue incorporated.
Conclusion
No matter how hard you try to find there is no perfect gun. But, when it comes to revolvers, Kimber k6s beats most others in any metric.
Of course, it has some shortcomings but it is true for all other guns out there. Except for a few people, the majority of the customer base of this gun seems to be content with it. The rigorous Kimber k6s quality control makes sure each gun makes the customer happy.
As in this post, I have mentioned the problems and their solution so that you know what you are getting into.
Getting along with a new gun takes time. Hopefully, this post will have your transition smoother with workarounds of Kimber k6s problems.
Related Posts: