The Glock 34 Gen 5 is the real deal! With it's selling point primarily focusing on the best ever factory Glock trigger with an OEM minus connector!
The pistol is as good as it will get. But many problematic aspects are existing with it. The most common problems with the Glock 34 Gen 5 are: failure to feed, slide lock issue, failure to eject and failure to fire.
I will discuss the solutions to all these problems and user reviews in this article. So read on till the end!
Features & Specifications of Glock 34 Gen 5:
| | |
| --- | --- |
| Barrel Length | 135 mm |
| Magazine Capacity | Standard: 17 Optional: 19 / 24 / 31 / 33 |
| Overall Length | 222 mm |
| Caliber | 9x19mm |
| Twist Length | 250 mm |
| Sights | Polymer Sights |
| Safety | Safe Action |
| Dimensions  | Width (Overall): 34 mm Height Incl. Mag.: 139 mm |
| Weight | With empty magazine: 743 g |
| Trigger Pull | 24 N |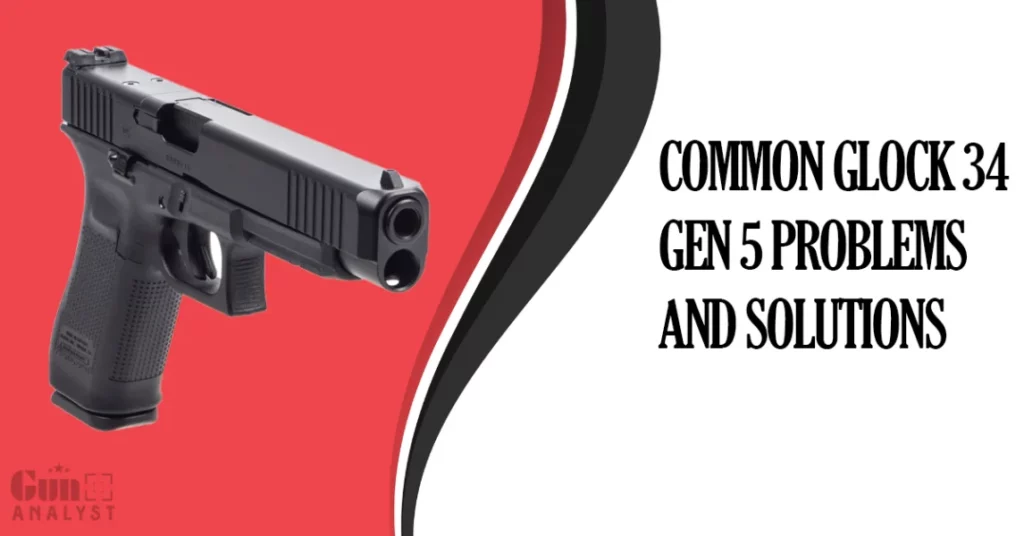 Common Glock 34 Gen 5 Problems and Solutions
| | |
| --- | --- |
| Problems | Solutions |
| Failure to Feed | Troubleshoot magazines and ammo. |
| Slide Lock Issue | Troubleshoot different parts and keep the gun clean. |
| Failure to Eject | Troubleshoot ejector. |
| Failure to Fire | Keep the firing pin oil free. |
1. Failure to Feed
About three inches to the left and steeply up, the barrel can be
Even with PPU ammunition, you can be experiencing one or two FTF out of twenty rounds (approximate calculation).
Possible Reasons
Usually, magazines, and then ammunition, cause the most issues. Using gold dot ammunition obviously leads to problems.
The feed ramp can experience burs. Additionally, you may be interacting with the slide while it's moving.
Another possibility is that the slide isn't far enough or long enough behind the current round for the back of the slide to fully engage the case head.
The Fix
To assess the "questionable ammunition" issue, try some 124-grain round-nose range cartridges of reasonable quality.
Purify the feed ramp and remove any potential burs. See if trading barrels is helpful. If not, try replacing the recoil springs.
2. Slide Lock Issue
Just over 600 rounds fired through the gun, the slide locks back unnaturally as soon as the magazine is empty.
Sometimes after the final round has been shot, the slide may not lock back.
Possible Reasons
There have been complaints that the tiny coil spring in the middle of the levers is misaligned and producing problems.
An extended slide stop can also be a problem. Moreover, using poor ammo (not the weight, or quality) with the Magtech causes these issues.
The Fix
Verify that the small coil spring in the levers' center is straight.
Additionally, switch out an extended slide stop for a regular one.
Extended slide stops are frequently engaged by a strong, high grip, which results in slide lock issues.
Use high-quality ammo from brands like Winchester and similar ones. Also, make sure the gun is clean and lubricated!
3. Failure to Eject
Failure to eject the 115-grain range ammo after each shot. Moreover, after every few rounds, it jams.
Possible Reasons
These are a few reasons:
An optic mounted on the pistol.
Other reasons for an increased slide mass.
Light loads.
Broken or damaged ejector,
Underpowered ammunition,
Dirty chamber,
Shooting with an unlocked wrist,
Lack of lubrication,
Dirty gun
The nested recoil spring system
The Fix
A factory ball round like the W-W white box ball might work. Send it back to Glock if you're still having issues with it using that subpar ammo.
They'll fix it fairly quickly. Switch to a softer recoil spring; minor adjustments may be necessary.
Clean and oil the weapon. If you don't want the gun to eject, keep the optics!
4. Failure to Fire
There may be a failure to shoot with 147gr. Ranger ammunition. The 115gr. White Box can result in the same issues!
Possible Reasons
It's possible that you're lubricating the striker assembly. The lubricant attracts debris and/or (with excessive amounts) causes the striker to move too slowly.
The Fix
Ensure that no lubricant or oil enters the firing pin passage. To check for any parts that were not stock or that were particularly worn, the complete gun should go through a detail strip.
If you have any confusion about how a part should look, it helps to have another Gen 5 Glock on hand for comparison.
User Feedback on Glock 34 Gen 5
The Glock 34 Gen 5 has received mixed reviews. It's either a hit or a miss.
These come with Gen 5 mags that include a longer baseplate and an orange follower. Although the enlarged floor plate is a lovely addition, it isn't very noteworthy.
The enlarged floor plate does absolutely nothing now that the half-moon cutout is gone. Users also have mixed feelings about the Glock 34 Gen 5 flared mag-well.
Hats off to the best trigger though! The Gen5 trigger is, quite simply, the best stock Glock trigger ever made.
A novel kind of barrel is another element of the Glock 34 Gen 5. Many people—and I wouldn't call them liars—claim that it is more accurate.
But quite soon, the Glock smile appears on it! To be honest, a worn-out rifle may be worn with pride! The front serrations are again either loved or hated by people.
Overall, people seem to smile on their Gen 5 Glock 34.
Top 3 Alternative Guns of Glock 34 Gen 5
Based on
CZ Shadow SP01
It has excellent ergonomics and is incredibly accurate and dependable. But the trigger is terrible. And its DA is incredibly long and heavy.
But I would still say get yourself a good tuned-up CZ SP01 Shadow if you have the money.
SIG X5 Legion
Although many on Brian Enos think it's a fine gun, they virtually always advise upgrading to a gray gun's trigger. That doesn't take away from the fact that the X5 is a superior option for USPSA.
Unless you really enjoy the grip angle of the Glock, go for this one!
Canik TP9SFX
The bottom Race gun is the softest-shooting, most accurate pistol ever and is rated for 60,000 rounds! Triggers weigh a comfortable 3.5 pounds. On these two variants, slides and magazines are interchangeable. They also produce some of the best weapons in the world and are NATO allies.
Frequently Asked Questions (FAQs)
How much does the Glock 34 Gen 5 factory trigger weight?
It comes with a 5.5lb trigger.
Which Glock 34s come with 5.5 connectors?
The Blue label 34's come with 5.5 connectors.
Can you use a threaded barrel on Glock 34 Gen 5?
What sights will work with the Glock 34 Gen 5 red dot?
Any suppressor height sights.
Does the Glock 34 Gen 5 trigger reset on its own?
Conclusion
The Glock 34 Gen 5 is the perfect handgun, exceeding most demands and wants. It has the best features including the 5.5lb trigger
The orange follower idea has a lot of fans. Although it's not a significant deal, you can analyze it visually much more easily. It can easily be your bedside HD gun.
I wholeheartedly encourage and urge you to consider one if you are even thinking about it. You won't be let down.