The Beretta APX is a pretty famous semiautomatic pistol that has taken its spot in the arsenals of many. But given its popularity, it is not without flaws.
In this article, I will talk about some of the most common Beretta APX problems that most users have to deal with. So, what are these problems?
Most of these problems involve the scarcity of spare parts and upgrades for the Beretta APX. Alongside problems with its accuracy, weak ejection, and extractor issues.
Features & Specifications of the Beretta APX:
| | |
| --- | --- |
| Cartridge | 9mm Luger/.40 S&W |
| Capacity | 17/15 Round |
| Barrel Length | 4.25 Inches |
| Weight | 28 Ounces (Unloaded) |
| Length | 7.55 Inches |
| Width | 1.3 Inches |
| Height | 5.6 Inches |
| Safety | Striker Deactivation Button, Trigger Safety, Slide Catch |
| Sights | Three Dot Sight |
Common Beretta APX Problems and Solutions
Now that you have a general idea about the problems, let's talk about them in detail, while alongside I provide you with a guide to Beretta APX troubleshooting.
Quick Overview of the Problems and Solutions
| | |
| --- | --- |
| Beretta APX Problems | Solutions |
| Weak Ejection | Running high-pressure ammo |
| Poor Accuracy | Using aftermarket accessories |
| Extractor Blowing Off | Servicing from Beretta |
| Magazine Issues | Stretching the Spring |
| Shorter Slide Stop | Getting an Oversized Slide Stop |
1. Weak Ejection:
Among the most common Beretta APX problems, one issue that almost all users have had to deal with is weak ejection.
In terms of the Beretta APX, the bullet shells often tend to fly directly back at the shooter's face, and in some especially rare cases, even to the left. Even though the ejection hole is to the right of the pistol.
Solution:
The Beretta APX has a pretty stout spring which can be the root cause of the issue alongside its special internal design mechanism.
However, users have reported that when using more powerful or high-powered ammo, this issue does not exist.
High-pressure ammo such as the 9mm Winchester NATO is said to resolve this issue entirely.
And once going through several hundred rounds of this high-pressure ammo, the springs eventually break in. Then the gun shows better ejection on other types of rounds as well.
2. Poor Accuracy:
The Beretta APX has a reputation to have poor accuracy according to some.
It has a lot to do with Berettas' Combat Sighting System which they used in the APX. This sighting system varies from the traditional one. Which may cause newer users to face difficulty aiming.
Solution:
There are two different solutions to this issue.
Using a different aiming method
Buying aftermarket sights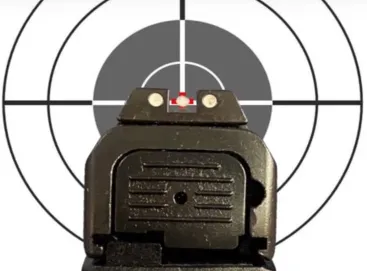 The Beretta APX uses a Combat Sighting System. In this system, the shooter is supposed to place the white dot right on top of the target (Fig 1).
Since most guns are fitted in such a way that shooters have to place the sight right below the target, using the same aiming method on the APX will undoubtedly shoot the bullet lower.
If you do not find this aiming method comfortable, you can invest in aftermarket accessories. Such as a laser or a tactical light.
The Beretta Fiber Optic Adjustable Sight Kit can be a great choice if you are comfortable using these types of sights.
3. Extractor Blowing Off:
The extractor issue is the most irritating problem that the APX has to deal with. In most cases, the chambered case will rupture at the base. Which causes high-pressure gas to leak into the receiver.
The leaking gas finds its way into the magazine, making it eject forcefully. And in some cases, the extractor blows off the pistol.
Solution:
Sadly, this isn't an issue you can fix yourself. As spare parts are scarce regarding the APX. However, Beretta is aiming to change that.
But, the matter at hand, what should you do when your extractor blows off?
You can get your Beretta APX problems fixed from them without charge, and they'll replace any part that has been damaged. Most users facing this issue have reported contacting Beretta about the issue.
You simply ship it to them, and they will return it to you after a few days. Beretta is also said to cover shipping both ways.
4. Magazine Issues:
This issue occurs when the APX slide no longer locks back on the last round when it is manipulated by the shooter's hands.
This is an issue when you want to go through multiple magazines at the shooting range.
It makes it easy to load newer rounds and enables faster reloading by pulling back the slide.
Solution:
The issue is mainly said to be with the spring of the magazine. If it is not made with good quality steel, it will slowly compress over time.
So, the simple to it is, pull the follower spring from the magazine and give it a little stretch. What this will do is, make the spring decompress, giving it back a bit more resistance.
This will help push the slide stop back up, and lock the slide after firing the last round.
5. Shorter Slide Stop:
Many shooters have had an issue with the shorter slide stop. The shorter slide stop created an issue in its reach for the owners.
However, this comes down to preference, as hand sizes can and will vary from person to person.
Solution:
Beretta has heard customer complaints and came up with an Oversized Slide Stop for the APX.
If you feel that you have any problems regarding the shorter slide stop, you can get the oversized slide stop from Beretta and equip it with your gun.
User Feedback on Beretta APX
The Beretta APX is mostly advised for experienced shooters and not recommended as the first firearm for beginners.
A user on Quora has provided a detailed explanation as to why the APX is more suited to shooters with prior experience with firearms.
Another user on the Highroad forum has talked about his experience regarding the extractor which blew off twice. Both before and after getting it fixed from Beretta.
Although some claim that the APX shoots low, this Youtuber explains why it's not an issue and shows you the correct way to aim an APX.
This user on Reddit also spoke up about his issues regarding the magazine. But also provided a simple fix to the issue.
Frequently Asked Questions (FAQs)
Should I dry fire a Beretta APX?
No, it could damage the striker.
Is there a loaded chamber indicator on the Beretta APX?
Yes. It protrudes from the top surface of the slide when a case is in the chamber.
Is 9mm ammo the same as 9mm Luger ammo?
What's the difference between a 9mm Luger & .40 S&W?
The .40 S&W is slightly bigger and more powerful than the 9mm Luger.
Will using high-pressure ammo damage the Beretta APX?
No. Instead, it is recommended to remedy the weak ejection issue.
Conclusion
Like almost all weapons, the Beretta APX has a few minor hiccups here and there as well. But do these problems make it a bad choice? Not at all.
As you can see from this article, the Beretta APX problems aren't that big of a deal and can easily be remedied. And it has a lot to do with your luck as well.
However, it is still recommended to have a bit of prior experience with firearms before getting your hands on a Beretta APX.
Related Posts: