There are a few minor Taurus Tracker 627 problems that you should know before buying this firearm. And, if you own one, knowing the solutions will ensure a smooth experience with it.
Among the problems, jamming, faulty cylinder, and ….. are the most common ones.
In this article, I have also given the solution to the respective problems for your convenience. let's get started.
Features & Specifications of Taurus Tracker 627
| | |
| --- | --- |
| Barrel Length | 4"/6.5" |
| Magazine Capacity | 7 rounds |
| Overall Length | 8.75"/10.75" |
| Twist Rate | 1:16.5" |
| Rear Sight | Adjustable |
| Front Sight | Fixed |
| Safety | Transfer Bar |
| Dimensions  | 5.3" H; 1.5" W |
| Weight | 35 Oz./40 Oz. (Unloaded) |
| Trigger Pull | 2.8 lbs. (Single Action)/9 lbs. (Double Action) |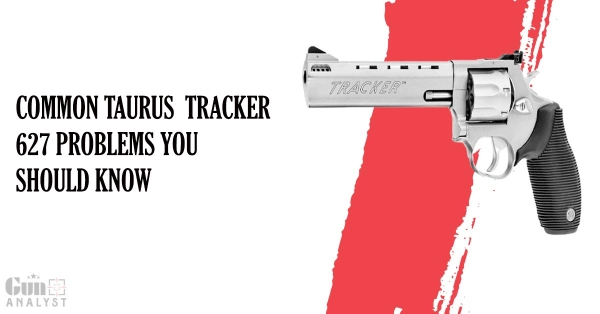 Common Taurus Tracker 627 Problems and Solutions
I hope that you have got a rough idea about the problems and solutions of this revolver from Taurus. Now, let's talk about them in detail.
Quick Overview of the Problems and Solutions
| | |
| --- | --- |
| Problems | Solutions |
| Jamming Problem | clean and lube the gun except for the cylinder, shoot 100/150 rounds, try different ammo brand, or send it to Taurus for fixing. |
| Cylinder Problems | Send the faulty gun to Taurus to fix manufacturing issues. |
| Shell-seizing Problem | Clean the bore, try different ammo brands, check the cylinder's smoothness, and clean any residue. |
1. Jamming
All units of Taurus Tracker 627 go through various quality control methods. Getting one out of the box, you won't find any visible flaws.
But some units do not work so smoothly in their early days of shooting. You may face a jamming problem when trying to shoot in a single action.
Due to jammed action, you won't be able to cock the hammer. Opening and closing the cylinder may solve the issue right away.
But it doesn't fix it permanently. In some cases, I have seen certain 627 units working smoothly while dry firing; no problem in single and double action.
After some time, the problem may also occur in double action.
If you are looking for a reason for this problem, I will tell you that this particular jamming issue occurs due to ammunition.
Pro Tip: It is recommended not to force the trigger to rotate the cylinder in this jamming issue. Such actions can leave scars on the rachet of the cylinder.
The Fix
First of all, clean and lubricate the gun taking it right out of the box. But don't lube the cylinder.
Now, shoot it 100 or 150 rounds to break it in. Some users mention that passing the break-in period solved all of their issues.
Lastly, try different brands of ammunition. Any slight change in the dimension makes certain bullets not perform well in Tracker 627.
In some cases, the nature of the jamming problem is so severe that the gun needs to be sent to Taurus for fixing.
2. Cylinder Related Problems
While researching Taurus Tracker 627, I came across several cylinder-related problems.
Pro Tip: Even if you buy or order a new gun, you must always check the firearm thoroughly. Most of the time, these cylinder issues happen at the factories.
Among several complaints, the most common ones are bent cylinder ejection rods and gritty cylinder spin.
A couple more are wobbly cylinders and a narrower gap between barrel and cylinder than usual.
The Fix
The best solution is to send the gun back to Taurus for fixing. I know that shipping and fixing in this way takes longer and costs more.
But trying to fix manufacturing faults by yourself or hiring a gunsmith will cost even more.
What you should do is talk with your gun dealer to request a replacement and let him take care of the warranty claim.
3. Shells Seizing
It has been reported that Norma .357 bullets get stuck in the cylinder of Tracker 627 after shooting a few rounds.
Even after using the extractor rod, you will face this issue.
Besides the ammo brand, residue buildup and rough cylinder inside can cause this problem.
The Fix
Usually, all 627s do not have the same problem with Norma ammunition.
So, you can try cleaning the bore. Also, try other ammo brands such as PMC.
Lastly, disassemble the gun to inspect the cylinder's smoothness. Furthermore, make sure that there is no residue left inside the gun.
Sometimes, new users forget to clean the packing grease put inside the cylinder before shipping. It causes the bullet shells to bind.
User Feedback on Taurus Tracker 627
While gathering information about the Taurus Tracker 627 in various forums, one thing was very clear to me; Taurus is terrible at customer service.
The company takes several weeks to solve a simple problem, and it lacks a basic understanding of proper communication.
As Taurus doesn't avail their guns' parts in the market, customers often don't have any option but to send their faulty guns to the company.
From the problems described above, you can understand that the most common problem with a Tracker 627 is its cylinder.
And, it seems that the QC of Taurus is terrible because most of the issues could prevented before the delivery.
Still, Taurus beats some of its competitors in price and quality. Tracker 627 costs less and lasts longer than Smith 686. The finishing quality is also better in 627.
Its rear adjustable sight helps shoot accurately. The Tracker 627 revolver is a great range and home defense gun.
Frequently Asked Questions (FAQs)
Is the Taurus 627 Tracker a good gun?
Yes, it is one of the best magnum revolvers on the market.
How much does Tracker 627 cost?
About $590; check the latest price here.
Is Tracker 627 a double-action gun?
What is the caliber of Taurus Tracker 627?
What is the build material of a Tracker 627?
Does the Taurus 627 shoot 38 Special?
Conclusion
After reading all the Taurus Tracker 627 problems, what are your thoughts on this .357 Magnum revolver?
I think that it is worth considering because of the fine quality and affordable pricing.
Indeed, some units are faulty but all are not. So, give it a try, and let me know your thoughts in the comment section.  
Related Posts: