When it comes to lever-action rifles, Henry 45-70 is a big name. Besides all the pros and quality, there are some issues that you need to know.
One of the most common Henry 45-70 problems is its loading issue. Alongside some minor complaints, I have listed and discussed the loading problems faced by its users in this article.
Read till the end to know about them along with the possible solutions. But first, I want to give you a short intro to the rifle.
Henry 45-70 Specs
| | |
| --- | --- |
| Barrel Length | 18.43" |
| Overall Length | 37.5 inches |
| Weight | 7.08 Pounds |
| Rate of Twist |  1:20 |
| Magazine Capacity | 4 Rounds |
| Rear Sight | Buckhorn |
| Front Sight | Brass Bead |
| Barrel Type | Round Blued Steel |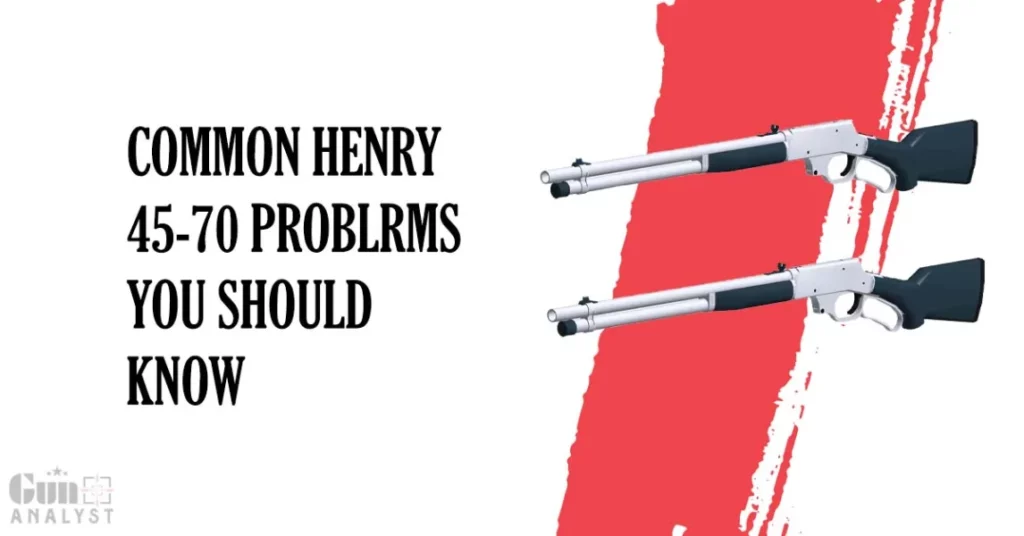 4 Common Henry .45-70 Problems and Solutions
Here are some common 45-70 rifle problems that I have come across while reading feedback from the users.
Quick Overview of the Problems and Solutions
| | |
| --- | --- |
| Problems | Solutions |
| Loading Tube Freezing or Sticking | Buy a newly designed model or send it to Henry for fixing |
| Tubular Magazine Getting Loose | Send it to Henry to fixing |
| Jammed Empty Shells | Cleaning or not using +P ammo |
| No safety feature or padding | The gun is safe, and you can buy rubber padding |
1. Loading Tube Freezing or Sticking
According to the users, the first generation of Henry .45-70 rifles had some issues such as freezing or sticking up frequently.
The possible cause was the particular bend at the end of the tube that binds the tube to the barrel.
The company solved the issue in the newer version by correcting the bend.
Other than that, there is another version of this problem. One user couldn't load the ammo easily.
It happens for the Hornady Leverevolution ammunition particularly.
Henry mentions that Hornady is a good ammo manufacturer but the case rim is slightly bigger than normal making it stuck sometimes.
The first mentioned issue has no solution at the user end but the second one can be sorted out easily. Find the fix below.
The Fix:
Actually, there's nothing you can do as a user. It needs to be fixed in the design part of the rifle.
The manufacturer solved the issue in the redesign. Hence, this rifle model has become solid without any feed issues. 
Now, to solve the other issue, you have to spin the tube while putting the bullets in the magazine.
You can watch this video to see how it is done.
2. Tubular Magazine Getting Loose
Like the previous one, this one is not common for all Henry 45-70 rifles. Very few users complained of poor fit-up.
The problem seems on the dovetail that is milled into the barrel in two places. After shooting several rounds, the magazine starts to come off.
The Fix:
The solution to this problem requires expert skills. The best approach is to contact Henry and send the gun to them for repair.
3. Jammed Empty Shells
Despite smooth loading and shooting, it is possible that you face a hard time ejecting the empty shells.
According to some users, it requires pulling the lever several times to complete the task. And, the levers were not very easy to pull.
It happens particularly with Grizzly 460 GR +P ammo. Using anything other than +P ammo, the problem does not occur.
Also, this jamming issue does not happen in new Henry 45-70 rifles.
The Fix:
The solution to this problem is harder than it looks. First of all, you have to examine the empty shells to rule out one possibility.
Take the empty ejected shells and inspect the pull marks on them.
If the +P ammunitions are too hot for your gun, you will notice pull marks near the case's mouth.
Check whether the case is not too long. Also, make sure that the primers and case head are not flattened.
Here is a picture shared by a user with a similar problem. You can see that the shells have significant marks.
In case you get to see similar markings, you have to assume that the gun's chamber is full of debris.
And, another possibility is that the +P ammo is creating too much pressure in the chamber.
It would be better to avoid such ammunitions. But if your 45-70 rifle is shooting +P ammo perfectly, you can continue using them.
4. No Safety Feature and No Padding

From the image below, you can notice that there are no safety features.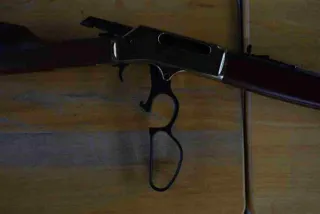 And, the image below shows that the brass plate does not help to absorb recoil.
The Fix:
Firstly, Henry 45-70 doesn't need any traditional safety features as it is a safe gun. As long as you treat it every time like it is loaded, you will be fine.
For the second problem, you can install a rubber recoil pad. The product I have recommended is from a reputed brand.
So, you can rely on it for absorbing any amount of recoil.
User Feedback on Henry .45-70 Rifle
Despite some minor issues, Henry 45-70 is a well-reputed rifle. If you don't believe my words, you can read what a die-hard Marlin fan has to tell.
Seeing a new Henry 45-70, he didn't think twice before paying almost $700 bucks.
Its classic lines, style, feel, XS sights, and overall US quality beats almost every other tube-loading rifle.
I have to mention the lever action of the gun particularly. It is smooth right out of the box and gets smoother after some use.
The adjustable buckhorn-style rear sight is very helpful in targeting. Also, one can easily mount a scope on the rifle.
So, this classic gun has a huge fan base for valid reasons. There are countless reviews on the Henry .45-70 on the internet.
By reading the user feedback from various users, you will understand that the problems mentioned above are no big deals.
Frequently Asked Questions (FAQs)
What is a 45-70 rifle good for?
Short-range shooting; less than 100 yards
How much does a 45-70 Henry rifle cost?
Which is better 45-70 or 444 Marlin?
Is Henry 45-70 any good?
Yes. Better shooting ability, reliability, accuracy, and looks are the reasons.
Why are Henry rifles hard to get?
Due to stopped production.
Conclusion
So, what are your thoughts about the gun after reading Henry 45-70 problems?
I am sure that those are not deal-breaking issues. If you are planning to get one, you must not hesitate as it is a fantastic gun for short-range shooting.
Using some accessories, you can significantly increase the shooting range.
And, it creates almost no sound when you install a silencer. It is because the rifle is not automatic eliminating metal clicking sounds.
Those who are up for hunting can seriously consider having a Henry .45-70 rifle. 
Related Posts: