The Beretta A300 Ultima further enhances itself upon the features of its predecessors. Although it does resemble the previous versions, some of its features have been upgraded.
Although it maintains quite a decent reputation among users, there are a few Beretta A300 Ultima problems that may cause issues for some users.
The most common problem older Ultima models used to have was that the trigger and the safety would lock up after firing a shot and cycling issues. Some users often complained that the chokes were extremely hard to remove as well.
However, before we delve further into the steps on how you may get your Beretta A300 Ultima problems fixed, let us take a glance at some of its features.
Features & Specifications of the Beretta A300 Ultima:
Beretta A300 Ultima Specs
Cartridge
12/20 Gauge
Capacity
2+1 Rounds/3+1 Rounds
Barrel Length
28 Inches
Weight
7.6 lbs./7 lbs.
Length
47.5 Inches
Rib Width
7 mm x 7 mm
Chokes
Mobilchoke
Safety
Crossbolt Safety
Sights
4mm Fiber-Optic Front Sight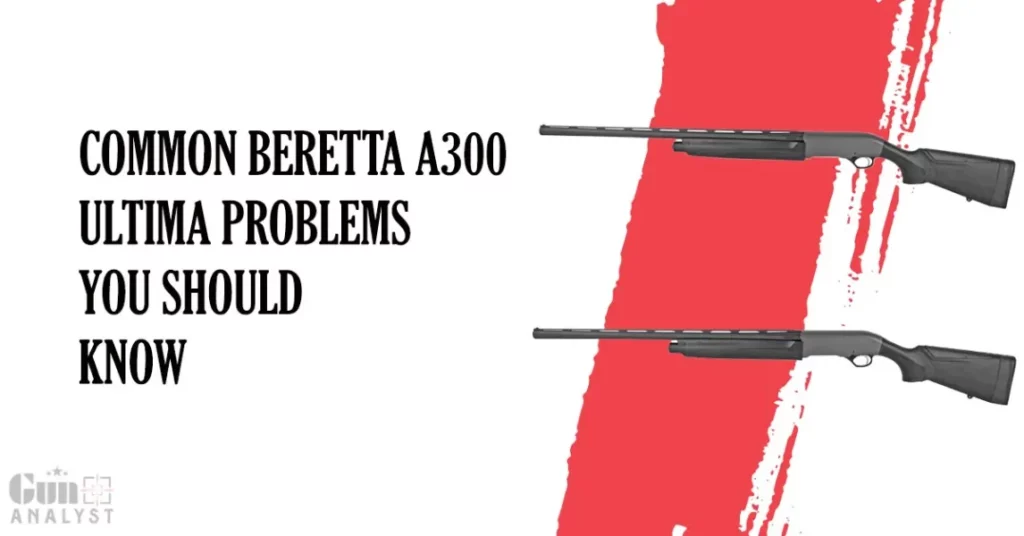 Common Beretta A300 Ultima Problems and Solutions
The following are some of the problems that may plague an Ultima. However, the steps to Beretta A300 Ultima troubleshooting will also be discussed here as well.
Quick Overview of the Problems and Solutions
| | |
| --- | --- |
| Beretta A300 Ultima Problems | Solutions |
| Jammed Chokes | Cleaning the thread |
| Trigger and Safety Jamming | Equipping a replacement hammer |
| Broken Front Sight | Replacing the front sight |
| Harder to Change Mag Capacity | Requires the help of a qualified gunsmith |
| Cycling Issues | Breaking in the gun properly |
1. Jammed Chokes:
As different situations demand a different choke to be used, the user must be able to swap it out without any issues.
But users have often complained, that their brand new Beretta A300 Ultima gave them a bit of trouble while trying to remove their chokes for the first time.
Some even found the thread to be quite rough for a smooth installation of a new choke.
Solution:
If you find any dust or debris inside the thread of your barrel, you need to clean it before trying to install a new choke.
There can often be dust or other particles lodged inside the threads of your gun, or the chokes. Hence, for smooth removal of the previous choke and the installation of a newer one, you must make sure the threads are clean.
But if you find the factory chokes too hard to remove, you may use a choke tube tool from Beretta to assist you in the procedure.
2. Trigger and Safety Jamming:
The most prevalent issue with the Beretta A300 Ultima is the trigger and safety jams. If you look at this video, you may be able to get a clear understanding of the matter.
Beretta does claim that the issue has been resolved with the later versions of the Beretta A300 Ultima. However, the older models may still face this issue frequently.
Solution:
The cause of the issue can be pinpointed as the two metal struts (Fig 1) on the hammer of the gun, not moving in conjunction with each other. In addition, oftentimes, the hammer may also have a slight curve to it.
The solution to this problem is, to get a replacement hammer for the Beretta A300 Ultima, and replace it with the current one.
This Youtuber demonstrates the cause of the issue alongside stating how he managed to fix the problem on his Ultima.
3. Broken Front Sight:
Users may often get into trouble regarding their sights as well. They may either get damaged during the shipping, be a defective product, or be damaged during use.
Some have also complained that the fiber optic sight on the front of the Beretta A300 Ultima is not bright enough for them. But the issue can be easily remedied.
Solution:
If the gun was damaged in transit, you could contact Beretta for a free replacement. However, if you find that the sight is not to your liking, you can opt to replace it.
You can get an entire Beretta shotgun sight set (Fig 3) from their official site. This will give you a pretty wide variety of choices.
And it would also give you a bunch of spares in case you ever need them. As well as the ability to mix and match to see which works the best for you.
4. Harder to Change Mag Capacity:
There is a magazine limiter plug (Fig 4) on the Beretta A300 Ultima which is a bit difficult to remove.
Hence leaving most users unable to increase their magazine capacity. This might be troublesome to a lot of users.
Solution:
Sadly, unless you are a qualified gunsmith, you are advised against any action to personally change the magazine capacity of your Beretta A300 Ultima.
You will need to acquire the help of a professional and qualified gunsmith with the appropriate tools and understanding, to increase the mag capacity of your Ultima.
5. Cycling Issues:
The Beretta A300 Ultima often has cycling issues straight out of the box. This is a common issue as most guns often require a break-in period.
Without properly breaking in the gun, many users may face this issue with their new gun.
Solution:
The solution is quite simple. Simply shoot a decent amount of rounds through the gun. One user mentioned that it took him around 100 rounds before the gun started working properly as intended.
Therefore, if you see any cycling issues with your brand new, out-of-the-box Beretta A300 Ultima, it is advised to shoot at least a hundred rounds before coming to any conclusion about the gun.
User Feedback on Beretta A300 Ultima
Despite the few issues that the Beretta A300 Ultima might encounter during its lifetime, it has pretty positive feedback from users.
One user on the Beretta A300 Ultima product page commented on how the extremely low recoil is a great feature for him, as he has severe neck and back pain.
However, this YouTuber did mention how his Beretta A300 Ultima faced issues regarding the trigger and safety jamming up and that Beretta customer service wasn't very responsive.
On the other hand, one user showcased the efficiency and reliability of the Beretta Ultima on one Shotgun World forum.
Similarly, another user on Reddit commented on how reliable the gas system of the Ultima truly is.
But some have also expressed their frustration with the limited magazine capacity, such as this user on another separate Reddit thread.
Frequently Asked Questions (FAQs)
What is the chamber size of the Beretta A300 Ultima?
Is the Beretta A300 Ultima ambidextrous?
Does the Beretta A300 Ultima have a recoil reduction system?
Yes. It has a "Kick-Off" recoil reduction system.
What is the reduction amount of the Beretta A300 Ultima?
What loads are appropriate for the Beretta A300 Ultima?
It will shoot a wide range of 2 ¾- and 3-inch loads.
Conclusion
Regardless of the Beretta A300 Ultima problems, it is known as a reliable and efficient shotgun among its fan base. And as you may have already seen, the problems are easily remedied.
Hence, if you wanted to ever get your hand on a fast, reliable, accurate, and efficient shotgun, you can easily opt for the Beretta A300 Outlander without any doubt.
Related Posts: