The SIG Romeo 5 is an absolute fan favorite optic. It is amazing how any motion turns it on. The sights are quite lovely, very clear dot with no magnification, no fish-eye effect, no color distortion, and high brightness/visible in sunshine.
A Romeo 5 on a Tavor X95, 9mm PCC, CZ Scorpion etc work extraordinarily. However, some complaints from users exist. The most common issues with the SIG Romeo 5 are sudden failure, mount problems, MOTAC issues, poor performance outcome and poor battery contact.
I will give you the solution to these common issues in this article. Additionally, you will get authentic reviews from users as well. So stay tuned!
Features & Specifications of SIG Romeo 5:
| | |
| --- | --- |
| Magnification | 1x. |
| Objective Lens Diameter | 20 mm. |
| Reticle | 2 MOA Red Dot. |
| Weight | 5.1 oz. |
| Length | 62.7 mm. |
| Width | 38.1 mm. |
| Height | 38.6 mm. |
| Mount Type | T10 Torx Low Profile and T10 Torx 1.41 in Riser. |
| Illumination Settings | 8 daytime/2 NV. |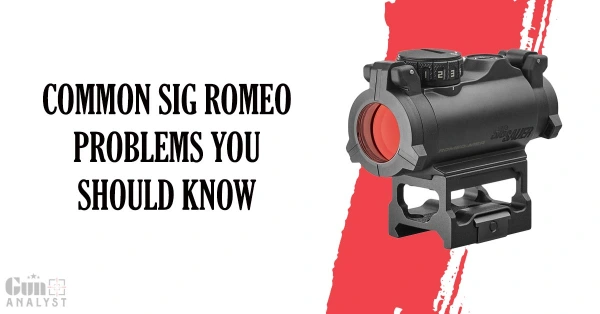 Common SIG Romeo 5 Problems and Solutions
The owners deal with many common SIG Romeo 5 problems. Here are some of the issues and how to solve them.
Quick Overview of the Problems and Solutions
| | |
| --- | --- |
| Problems | Solutions |
| Sudden Failure | Change the battery. Call SIG for troubleshoot. |
| Mount Problems | Call SIG for troubleshoot. |
| MOTAC Issues | Call SIG for troubleshoot. |
| Poor Performance Outcome | Call SIG for troubleshoot. |
| Poor Battery Contact | Troubleshoot with locklite. |
1. Sudden Failure:
The lower settings ceases to function suddenly. It may just operate only on the highest setting. This may be occurring due to the battery failure.
Sometimes the light would come back a little. But when you hold the rifle up for a minute, it will go dead again.
The Fix:
You can try changing the battery. But if that does not work, replace the optic.
2. Mount Problems:
On the rail, the sight mount can be really sloppy. It may behave as though the threads are stripped when you try to tighten it. The screw in the mounting piece's screw hole can be completely loose.
The OEM mount is a terrible one. The cross bolt may snap as well.
The Fix:
In this case, calling SIG may be the only option to get a new mount. But you can replace the stock mount with Aimpoint micro mounts. Primary Arms, American defense, the Midwest, etc. are also great choices.
3. MOTAC Issues:
The motion sensor of the Romeo 5 tends to fail. Additionally, the shake awake feature on starts to wear down with time as well. It would be nearly too sensitive when it is new.
After a few thousand rounds of recoil, when taking up the rifle lightly, the optic won't turn on until you shake it harder.
Moreover, the MOTAC (motion activated illumination control) may stop working. When set for various times like hours, it may fail to shut off.
The Fix:
The optic should be sent to SIG. The MOTAC issues should be under warranty and they are bound to fix it.
4. Poor Performance Outcome:
The reticle at maximum setting may be very dim. And it may be reluctant to turn on. The dimness may cause the dot to become quite invisible.
The red dot can also get blurry. Or assume any irregular shape.
The Fix:
Only SIG can help you with this. So call SIG for this problem.
5. Poor Battery Contact:
Romeo 5 on when switched off will remain off often. You may change the battery but it wouldn't work. Because it's not a battery issue.
The Fix:
The brass colored ring the battery fits in gets somewhat backed out and does not make good contact. It might get backed out while being used. There is not any loctite or other substance holding it in place; only friction.
The sight will operate properly after tightening the connection. Keep in check occasionally.
User Feedback on SIG Romeo 5
Some users say that Sig optics are attractive Chinese items designed for a certain market niche. Customers in the market sector purchase goods based on their appearance and price.
Regarding long-term performance, there have been quite a few current problems with items created by Holosun. It's not for a weapon used for self-defense or official usage.
The SIG Romeo 5 and Aimpoint T-2 are often compared with one another by the users. The Aimpoint T-2 has nothing at all wrong with it. It is regarded as the market's top red dot.
However, the Sig Romeo 5 is the finest value for your money. It becomes very difficult to justify the additional cost of the T-2 when you can purchase three or four high-quality Romeo 5 red dots for the price of only one Aimpoint T-2.
The MOA circle dot reticle, for starters, is excellent. Second, users like how it automatically goes to sleep when there is no movement but promptly wakes up when there is.
Never once have they needed to fiddle with any buttons to turn it on. It is their favorite red dot sight once they start using it. There is no reason not to have entire faith in it.
Romeo 5, despite the hate, can be withstanding of abuse. You can conduct different kinds of impact tests on it and it is quite durable. However, for the long run, it may not be as reliable.
Frequently Asked Questions (FAQs)
Is there a manual on/off override to shut the red dot and MOTAC off on the Romeo 5?
To turn the sight off press and hold either the (+) or (-) button for more than 1 second.
Can you turn the automatic shut off feature on a SIG 5 off?
Yes. The optic usually turns off in 120 seconds. You have to push the front button and hold it to shut the feature off.
Is the Romeo 5 really made by SIG or a rebranding of Holosun?
Holosun does provide SIG with these optics and SIG repackages them. The HS403B and the Sig Romeo 5 practically have identical capabilities, however SIG did a fantastic job of repackaging, notably the battery compartment.
Conclusion
It is a common concern that the SIG Romeo 5 is priced so low. However, it still offers amazing brightness settings that are easy to use. It can endure the summertime vehicle duty in the desert heat and thousands of rounds fired downrange while still being left on shake awake.
According to reports, the optic lasts for more than two years on its original battery. In my opinion, they offer the best value in red dot optics. I mean, look how clear the glass is clear without any strange tint.
Some people might take issue with the optic's maker, Holosun. However, they appear to have much improved. The Holosun optics are popular among men who shoot PCC.
So I would suggest you go for this optic without a shred of doubt.
Related Posts: