The Beretta Nano was specifically designed for concealed carry. The smooth contour along with its light weight makes it perfect for everyday carry and personal defense.
However, it is not without flaws. There are several Beretta Nano problems a user has to deal with.
The Beretta Nano is notorious for its "failure to eject" or FTE issues. Alongside problems such as light primer strikes, slide jams, stovepiping, etc.
Before I move on to the steps for getting your Beretta Nano problems fixed, let's take a glance at some of its features.
Features & Specifications of the Beretta Nano:
Beretta Nano Specs
Cartridge
9mm Luger
Capacity
6/8 Rounds
Barrel Length
3 Inches
Weight
19.8 Ounces (Unloaded)
Length
5.63 Inches
Width
0.9 Inches
Height
4.17 Inches
Safety
Automatic Striker Block, Drop Safety (No External Safety)
Sights
Three Dot Sight
Common Beretta Nano Problems and Solutions
Let's look further into the problems alongside solutions regarding the Beretta Nano troubleshooting.
Quick Overview of the Problems and Solutions
| | |
| --- | --- |
| Beretta Nano Problems | Solutions |
| Failure to Eject | Using higher grain ammo |
| Light Primer Strikes | Replacing the striker guide |
| Slides Jamming | Applying a firm grip while shooting |
| Shooting Low | Equipping aftermarket sights |
| Stovepiping | Eliminating limp-wrists/Using higher grain ammo |
| Broken Slide Catch | Replacing the slide catch |
1. Failure to Eject:
This has been one of the most adamant problems regarding the Beretta Nano. Almost all complaints from users regarding the Nano, mention the FTE or failure to eject problem.
The issue tends to occur mostly when using 115-grain ammo with the Beretta Nano.
Solution:
The Beretta Nano is specifically built for 124 grains or heavier ammo.
Several users have specifically stated that using higher grain ammo has minimized their issue regarding FTEs.
However, if you find that even after using higher grain ammo the FTE issues are still prevalent, you might have to imply a firmer grip on the gun.
Small handguns require every ounce of recoil power to function effectively. If the gun can move and part of this power is absorbed through your hands, it will often fail to eject and may also misfeed.
2. Light Primer Strikes:
A light strike is also known as a failure-to-fire or FTF. It's when you pull the trigger but the bullet does not fire out of the gun.
Solution:
The solution is to simply replace the striker guide. You can get a replacement striker guide online.
Once you've gotten the striker guide, simply replace the old one. As the old one is made of plastic it will easily wear down over time and will need to be replaced.
If you require a visual guide for the procedure, you can follow this video on Gun Streamer, where he shows you the entire procedure step-by-step.
3. Slides Jamming:
The slides can jam on a Beretta Nano due to a limp wrist or loose grip on the gun. Limp-wrists are a major enemy of smaller handguns.
Small firearms should never be gripped too loosely. Because doing so will cause the round's kinetic energy to be used more for moving the gun. Rather than racking the slide.
Solution:
The solution to the slide jamming is to hold the gun tightly and stay as still as possible during the shot.
It could take a bit of getting used to for newer users, but with enough experience, it will be like second nature to all.
However, if the issue persists after employing a firm grip, you can check the top surface of the base of the barrel.
If you notice any burrs on the said surface, you can send the gun to Beretta for a replacement of the damaged parts.
4. Shooting Low:
Several users have complained about the Beretta Nano shooting low. Such as this user mentioned on a Reddit post.
Some have also commented on the post agreeing with the user about this issue.
Solution:
The Beretta Nano does have adjustable sights. You could tweak them yourself to your taste to increase accuracy.
However, if that does not work, you could go for aftermarket sights. Such as the Tritium Night Sights Kit available on the Beretta website.
5. Stovepiping:
Stovepiping tends to be more of a user error rather than a problem of the Beretta Nano.
Small guns need every bit of recoil energy to function properly. So limp-wrists can and will cause stovepipes and other extraction issues in small guns such as the Beretta Nano.
Some also speculate the cause to be lower grain ammo.
Solution:
Hence, the solution to such a problem can be drawn to two specific points.
First of all, employ a tighter grip on the gun when firing it. If you have issues regarding limp-wrists, you need enough practice to eliminate them.
And secondly, use higher grain ammo as stated above. Especially 124 grain and higher.
These two fixes should eliminate issues regarding stovepiping on the Beretta Nano.
6. Broken Slide Catch:
This is a somewhat rare issue for the Beretta Nano, but a few users have broken their slide catches during use. In such a scenario, the slide will refuse to lock back on an empty magazine.
This is mostly due to the prolonged usage of powerful ammo such as +P ammo. Although they are recommended to use during the break-in period. They are not advised to be used full time.
Solution: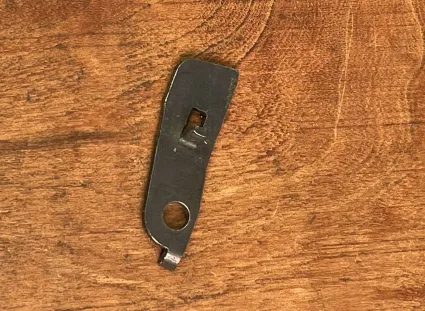 If you have unfortunately run into a broken slide catch, there is nothing to worry about. Beretta has got your back.
You can easily order a replacement slide catch from Beretta for your Nano. Replacing the broken slide catch with the newer one should fix your Beretta Nano.
User Feedback on Beretta Nano
User feedback on the Beretta Nano tends to be a bit on the negative side. Mostly due to users facing difficulty with the FTE issue.
This user on a Tennessee Gun Owners forum said that he had a 10% FTE rate with both Winchester WB 115 grain ammo, as well as Speer Lawman 124 grain ammo.
But another user on the same forum thread defended the Nano by saying that the gun needs a Break in period. For which Beretta suggests 200 rounds of SD or +P ammo.
Another problem regarding the slide jam was brought up on the Handgun Forum by one user. He also had several encounters with "failure to eject".
However, one reviewer on the Well-Armed Lady mentioned that she had never had any misfires or malfunctions in the 1000 rounds that she had shot, which is a great record.
Although rare, there have been instances of the slide stop (slide catch) breaking. One such incident was mentioned by a user on a Defensive Carry thread.
Frequently Asked Questions (FAQs)
Does the Beretta Nano have external safety?
No, it has no external safety.
What bullet grain is recommended for the Beretta Nano?
What type of frame does the Beretta Nano have?
It has a fiberglass-infused "technopolymer" frame.
Is the Beretta Nano available for retail sale in every state?
No, the Nano is not available for retail sale in the state of California.
Can the magazine-release button be reversed on a Beretta Nano?
Yes, the magazine-release button on the Nano can be easily reversed for left-handed use
Conclusion
It is quite evident that the Nano has a mixed reputation on the market and among the users. Mostly due to these Beretta Nano problems a lot of users have had to deal with.
But with the solutions provided above, you can easily fix these issues and find out that the Beretta Nano can be reliable enough to be a part of your everyday carry.
Related Posts: